November 5, 2020
Panaon Island Expedition Captain's Log: October 28 – November 5, 2020

October 28 (Wednesday)
Calm waters again today, perfect for today's fieldwork. We came back to the southern tip of the island. In Pintuyan, some outriggers came near our ship. They were curious. It would have been nice to really visit the barangay captains for courtesy calls but this pandemic has made courtesy calls an impossibility.
I was monitoring the team through binoculars and wondered why they have not started their dive yet. After a while, Kuya Badi communicated via the radio. A resident shooed the Science Team when they went inside the sanctuary. We introduced ourselves and informed them that we have made necessary coordination with the Mayor and Barangay Capta in to survey the area. A group of men came near the chase boats and informed us that we can now proceed with our activity. I felt good that people in the vicinity are concerned with their sanctuary which means they are serious in protecting it. True enough, when the divers arrived, they said this is the only sanctuary we visited where fishes were big and unafraid.
October 29 (Thursday)
Last night, I spent time with Kuya Joel, one of the ship's crew. We stared at the calm waters and observed critters either getting attracted to and enjoying the ship's light or being devoured by their predators. We saw some squids, crabs, and small fishes. We even saw a cowfish about a foot long. We talked about how fun it is to fish for squids. I told him about my experience fishing for squid in the middle of the sea at night in Calatagan years back. Fishermen showed me their technique on how to catch different kinds of squid. He told me that the structures of the boats in Panaon are very different from that in Puerto Galera. He noted that here, boats maneuvered fast, but he boasted that theirs are probably sturdier.
October 31 (Saturday)
I woke up at 4AM to the sound of the captain giving instructions to the crew over the radio. I peeped out my window and saw Kuya Badi discussing the map for today's schedule. I got out to talk with Captain Nori and Kuya Badi about the weather condition and when the best time is to leave Panaon. We were sandwiched in between two big typhoons and going home is tricky. I went out and was mesmerized by the beauty of sunrise.
November 1 (Sunday)
We were supposed to leave today but due to storm signal #1 brought by Typhoon Rolly, the Philippine Coast Guard did not allow us to sail. We stayed in the cove and waited for news as Typhoon Rolly devastated the northern part of the country. All of us were worried because affected areas were just recovering from the devastation that Typhoon Quinta brought just a few days earlier and now they have to deal with this new wave of destruction.
November 2 (Monday)
We are on our way home! The Philippine Coast Guard finally gave clearance for the boat to travel. Everyone was so happy that we can go home safely. It was not easy what we all went through. Pandemic. Storms. Fieldwork. Full days of diving. It has been a long expedition and everyone's adrenaline is starting to dwindle. I can see that the crew is starting to feel tired after 22 days of our journey.
November 4 (Wednesday)
It is Dan's birthday today. We prepared an early morning surprise for him. The expedition team and the crew sang "Happy birthday" and greeted him with a yummy cheesecake. Today is a perfect day to celebrate not only Danny's birthday, but also the culmination of the expedition. We prepared a short presentation and some games since we are going to stay for another night on the boat. We anchored in Bauan Pier at around 3PM. Home is so near, yet so far.
November 5 (Thursday)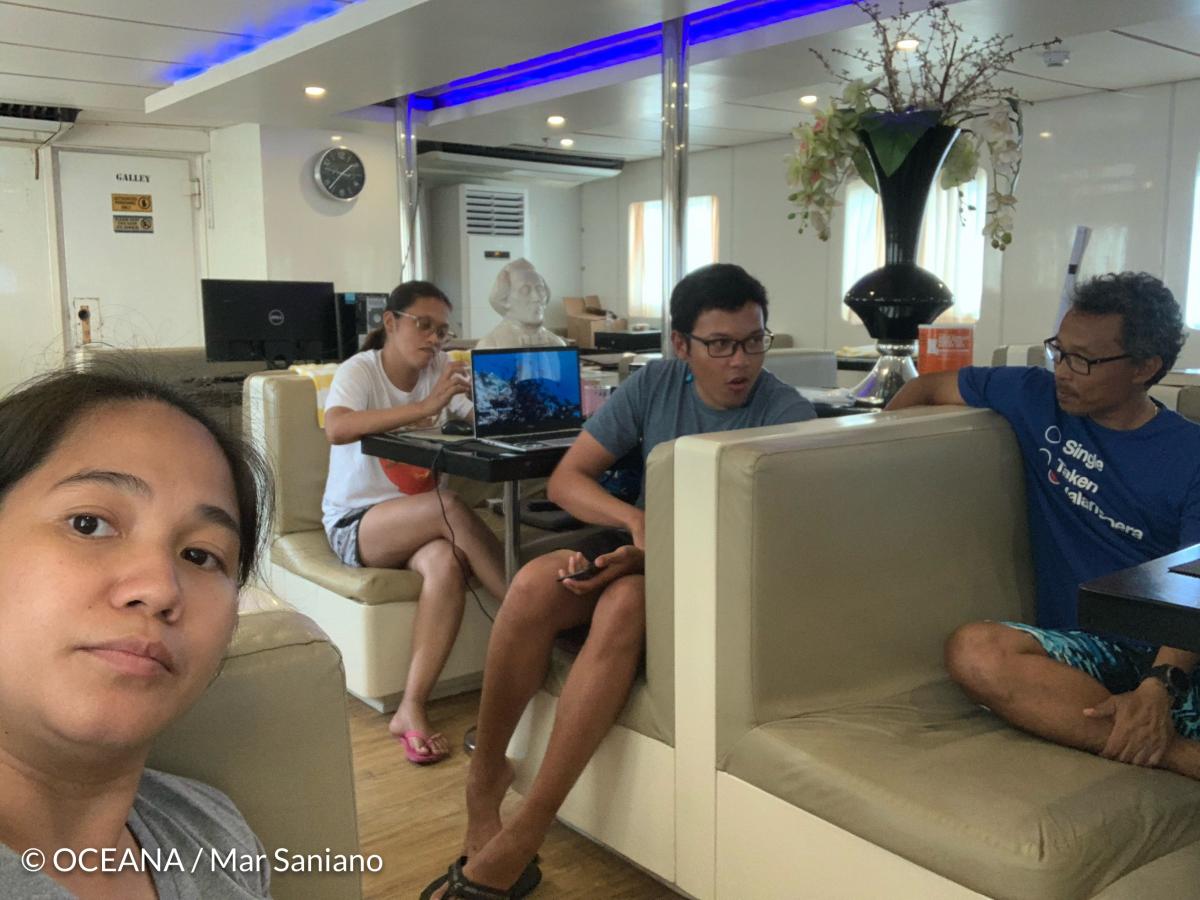 We got up very early today to get ready for our 5:30AM swabbing as part of our COVID-19 safety protocol.
Looking back, we spent 21 days on board the MV Discovery Palawan with 16 days of fieldwork. Days before, we encountered several challenges: from logistical preparations, COVID testing, and three typhoons during the preparation and conduct of this expedition. But with every day and every target site visited, I would see smiling faces of the divers talking about how nice the coral reefs are. Each of the target sites had its distinct characteristics that may possibly serve a special purpose to the island's ecosystem. I am looking forward to the result of this expedition. I hope that through this, the people, not only of Panaon, will see how special the island is and how urgent it is for it to be protected.