November 23, 2022
Reef-safe sunscreen, plastic-free personal care urged for beach and vitamin sea lovers
Loving the beach is more than having the fine white sand behind our photos posted on our social media accounts. Underneath and beyond all these eye-candy coastline and sea are coral reefs that are homes to tons of fisheries resources, our source of nutrition and livelihood to our fisherfolk. 
MAGWAI or Magwayen Organics, a local, marine-friendly company that sells plastic-free shampoo bars, and reef-safe sunscreen took this matter to heart. Since 2018, MAGWAI has been on a mission to empower consumers toward marine-friendly personal care. One of the most remarkable things about MAGWAI is that it is among the few, if not the only eco-friendly companies to distribute their products on Shopee and Lazada without plastic packaging.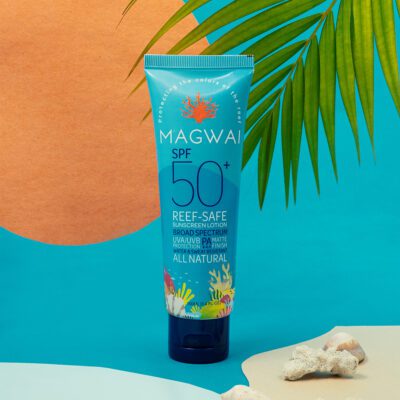 Coral warrior calling 
Company founders, Czar Carbonel and Maffy Tamayo, started the company after learning about coral bleaching in the Philippines. The condition of Philippine coral reefs has been in constant and rapid decline. A recent study shows that 90% of our reefs are in poor to fair categories and none in excellent state.  
While sunscreen application may not seem as destructive as plastic pollution or dynamite fishing, most sunscreens contain chemicals that are toxic to marine life. Oxybenzone, Benzophenone-1, Benzophenone-8, OD-PABA, 4-Methylbenzylidene camphor, 3-Benzylidene camphor, nano-Titanium dioxide, nano-Zinc oxide, Octinoxate, and Octocrylene are among the chemicals that have been found in many sunscreens and have been proven to harm coral reefs, mussels, sea urchins, fish, and even dolphins (https://pubmed.ncbi.nlm.nih.gov/26487337/).  
Among the best alternatives are mineral-based sunscreens without these chemical components. Carbonel and Tamayo sought for reef-safe sunscreen, but none were available in the Philippines at the time. Prompted by this need and the concerning effects of chemical sunscreen on coral reefs, the duo set out to create their own reef-friendly sunscreen to provide others with options that do less harm to our seas.  
Effective marine-friendly options 
"More important than becoming a local brand to use the 'reef-safe' label, we need to provide effective marine-friendly options that can help consumers transition into life-long eco-friendly users. This mission is possible only if both sustainability and the effectiveness of the product are taken into full consideration," Carbonel and Tamayo said. 
MAGWAI considers the entire product chain when it comes to sustainability. Product formulation and ingredient selection are based on cross-referencing information from the Environmental Working Group (EWG) and European Chemicals Agency (ECHA) to determine the integrity of raw ingredients as non-toxic to the marine environment and safe for human consumption.  
They made sure that ingredients are sourced from providers that are FDA, Ecocert, or Cosmos certified. "These have to be organic, biodegradable, or compostable so these do not pose long-lasting negative impacts on consumers and local Philippine reefs. The company is also working towards partnering directly with local new ingredient providers as a move toward livelihood improvement," Carbonel added.  
Avoiding single-use plastic 
In line with their mission to provide consumers with sustainable alternatives, MAGWAI is also committed to reducing plastic and providing innovative packaging.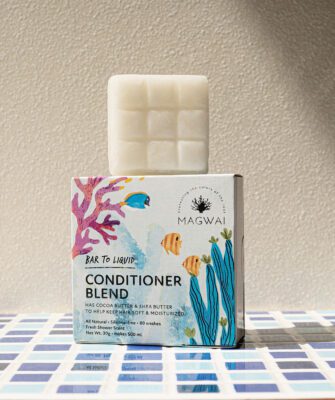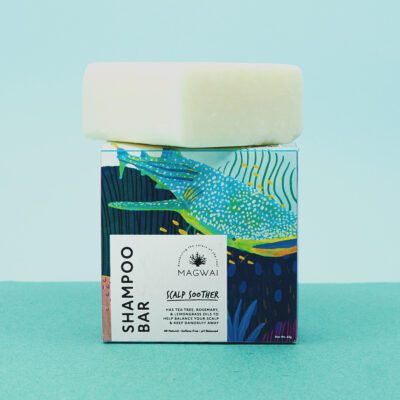 MAGWAI Shampoo Bars and the newly released MAGWAI Conditioner Blend utilize foldcote and cardboard for their packaging; rather than tape or oil-based ink, the company opts for minimal adhesives and soy ink. They were able to negotiate with couriers that distribute products sold on Shopee and Lazada platforms.   
 "Eco-friendly businesses need to be creative in finding ways for their products to be plastic-free. I found out that by creating our own account under these couriers (e.g., NinjaVan), we will be able to directly coordinate with the courier on what kind of packaging to use. We can override e-commerce packaging requirements, and opt for plastic-free packaging," Carbonel explained.  
Empowering consumers 
Oceana Vice President Gloria Estenzo Ramos lauds efforts of eco-enterprises like Magwai in showing the government and consumers alike that plastic-free and environmentally acceptable products and packaging can be available to consumers. 
Youth, fisherfolk, individual advocates, local government officials and civil society groups have joined Oceana in the lawsuit compelling the National Solid Waste Management Commission (NSWMC) to implement the Ecological Solid Waste Management Act (Republic Act 9003) and address the worsening plastic pollution in our ocean. Since the enactment of the law 21 years ago, there has been no issuance of the list of non-environmentally acceptable products and packaging (NEAPP) which the NSWMC is mandated to do on a yearly basis. Single-use plastic fall within the definition of those which are hazardous and not biodegradable or recyclable and need to be in this list. Once listed, the manufacturing, importation, distribution, selling, and use of those in the list are deemed illegal. 
MAGWAI gives consumers the opportunity to be involved in product development. Throughout the years, MAGWAI has been responsive in addressing concerns raised by their customers. MAGWAI Reef-safe Sunscreen and MAGWAI Shampoo Bars have gone through extensive research and multiple re-formulations since their release to adapt to consumer standards. For MAGWAI, this is an imperative as the company recognizes that eco-friendly brands need to become more competitive and innovative if a genuine movement towards sustainable products is to ever usher in. (END) 
For More Information:      
Joyce Sierra, Communications Manager, Oceana       
Mobile: 09178214430 E-mail: jsierra@oceana.org       
Facebook: www.facebook.com/oceana.philippines      
Twitter: @oceana_ph Instagram: @oceana_ph