October 29, 2020
Danny's Dive Diaries: October 18-27, 2020
October 18
Excited for my first dive in Panaon Island. We have with us a team of scientists who will do the coral and fish survey. They are known for their work in the field for gathering data to support the establishment and management of marine protected areas. We also have with us a documentation team composed of well-known underwater photographers, videographers, and documentary producers.
In today's dives, I saw two small hawksbill turtle and a green sea turtle who all seemed unaccustomed to seeing people because they quickly swam away. Hawksbill turtles are critically endangered while green sea turtles are considered endangered and their presence warrants protection of Panaon Island.
True to what I've heard, the corals we saw today are extensive and quite good compared to other dive sites I've been to.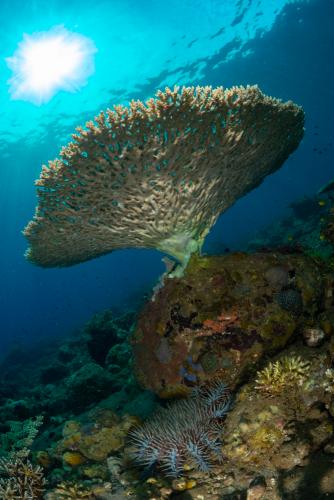 October 19
The shallows had whipping currents but beautiful corals. Together with Doc Dee and Yvette, we went to the reef edge and lo and behold! At around 15 meters, we saw a huge field of foliose or lettuce corals covering a big area and slopes to around 20 meters. We saw nice schools of surgeon fishes and there were some groupers, too. I saw an octopus and a black tip shark which swam away immediately when it saw me.
Bahay Marine Protected Area was by far the most beautiful MPA I've seen. Coral cover was very good in the shallows and as we went deeper between two coral outcrops, it was decorated with lots of crinoids, soft corals, and sea fans. We also saw beautiful stands of red whip corals and a school of around 30 batfishes passed us but were two far for a photo.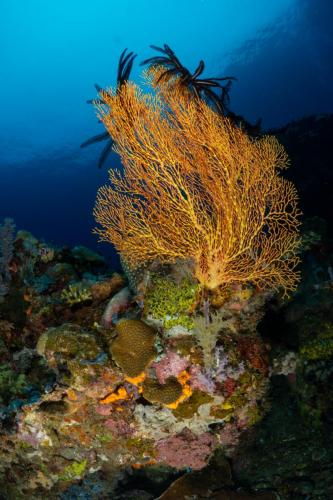 October 20
Today is the third day of diving and the team is in very high spirits. We are amazed to see that every site we have been to boasts of amazing underwater seascape. We visited Esperanza Dos, a locally managed Marine Protected Area (MPA) that is comparable to Tubbataha in terms of reef contour, diversity, and coral cover. We didn't see much fish but the potential is there once adequate protection and policies are put in place.
We saw a big moray eel, a large green sea turtle, and a sea snake. We also saw lots of juvenile fish and schooling fusiliers (dalagang bukid). Diving condition was generally fine but the area was known for whipping currents, hence the many Gorgonian corals or sea fans even in the shallows.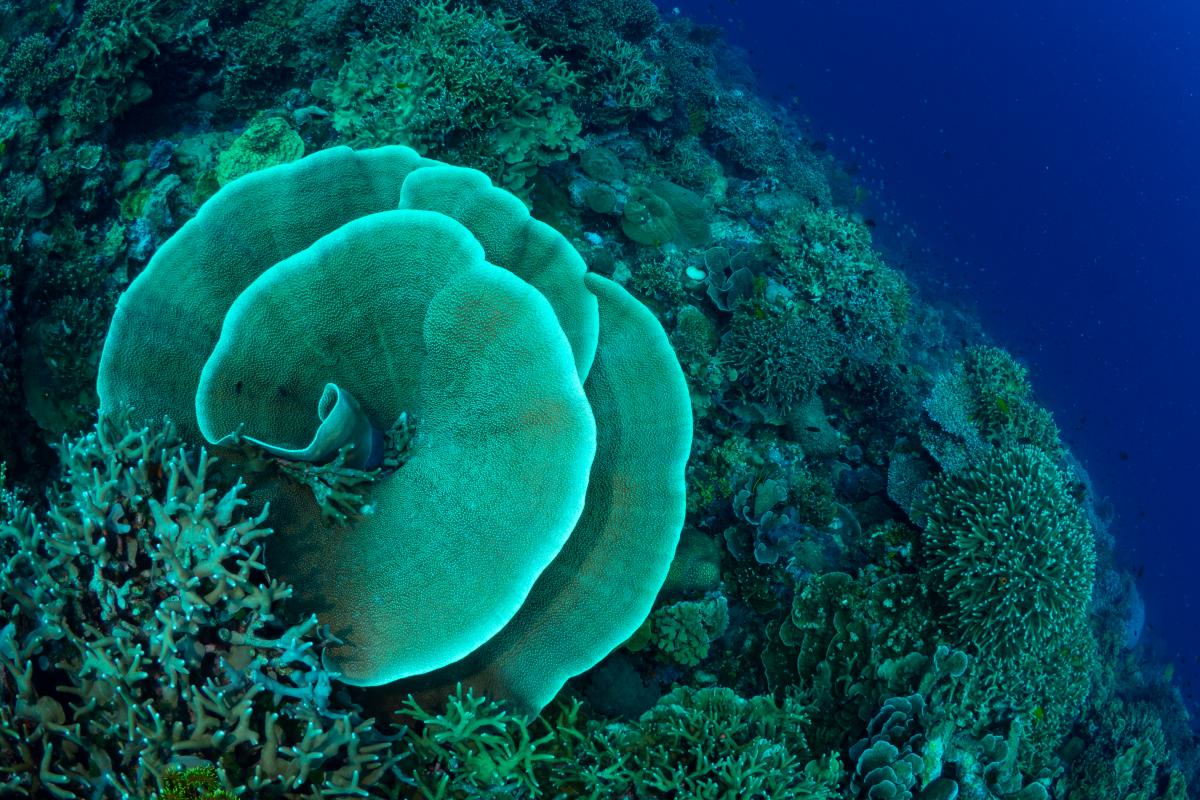 October 21
Today's fair weather and calm waters blessed us with three dives. The first dive was outside Gud-an Marine Protected Area (MPA). I was worried about bad visibility and the low sunlight since it was just 7:00 in the morning. Entering the water, visibility was indeed bad but as we went deeper, the waters became clearer and there was enough light for photos and videos. The low and subdued lighting even added drama to the photos we took.
In the second dive, we found Gud-an MPA is dominated with colorful corals. We were impressed with its coral cover and the schools of big fish such as rabbit fish. I even saw a huge green sea turtle but it was shy and I didn't manage to take a photo.
Our last dive was outside the Anislagon MPA. This is another site that, despite being outside an MPA, has relatively good coral cover. However, we were saddened by the sight of floating plastics. Our documentation team even removed a lot of abandoned fishing lines and my hand got caught in several fishing hooks while helping them. We even saw plastics caught on corals which we removed after documentation to bring back to the boat with us.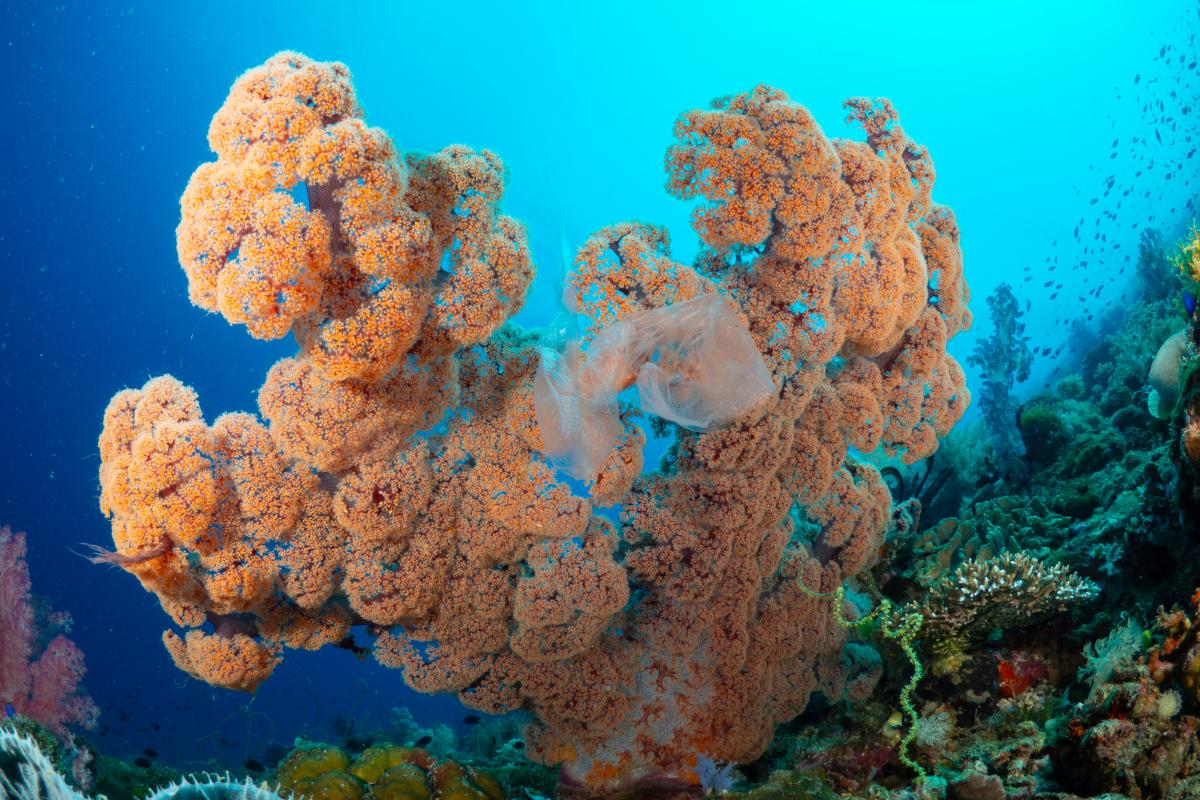 October 22
As usual, we had great dives today. We saw frog fishes, good coral cover, and diversity. Yvette Lee shared that in the shallows of Tubbataha, you only see branching corals. Here in Panaon, the shallows exhibit a diversity of corals and other marine life such as sponges.
I've been seeing sea turtles the past few days but today I managed to get close enough to one and take a photo of a critically endangered hawksbill turtle – another sighting that proves to us that the reefs in Panaon Island need protection.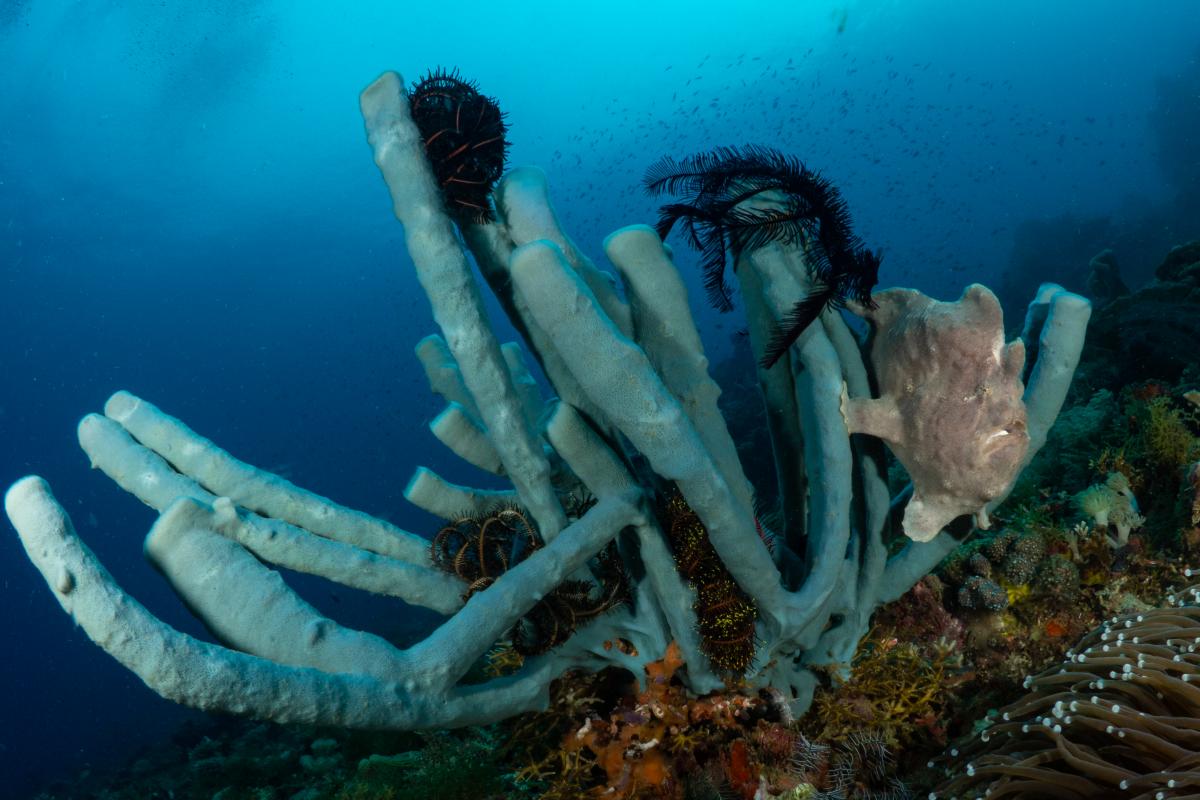 October 23
Our dives today were great as usual. The shallow corals here are so extensive and the diversity is amazing. Yvette and I removed a big ghost net left entangled on Tubastrea corals. It took us about 15 minutes to get the net out of the coral head while the current was quite strong.
We saw some good-sized fish today. The survey team even saw a school of large chevron barracudas around 60cms each in length. In our last dive outside Napantao Sanctuary, known for its Tubbataha-like coral reef area, we were impressed by the sea fans found in the shallow area.
In our chat with Dr. Vic Ticzon, he said that all our dives have been great so far. We are still wondering about the lack of bigger fish and one possible reason is the increase in fishing pressure due to the lockdown. He also said something that stuck with me: sometimes when he surveys pristine reefs like the ones in Panaon, it feels like he's writing an obituary because a lot of the reef he surveyed degraded over time.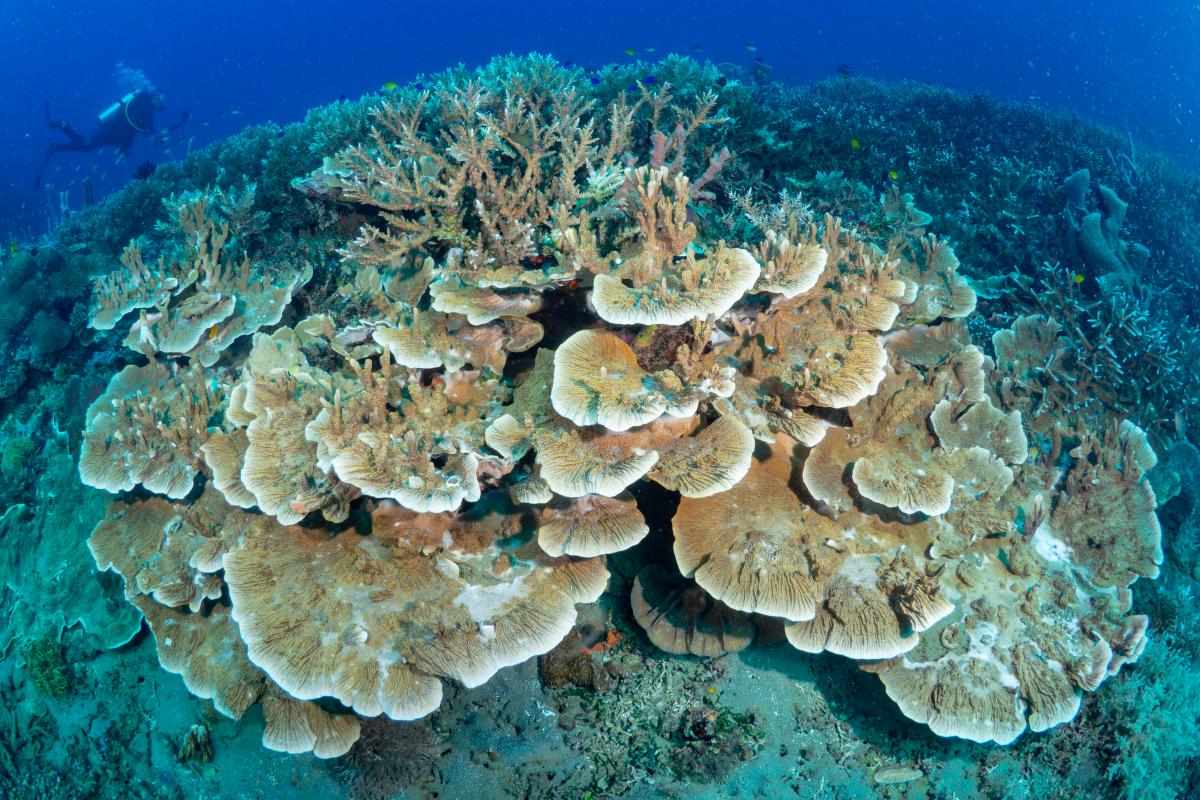 October 24
The team is in high spirits because of the beautiful things we keep seeing underwater. Today's dives were amazing. Napantao Marine Protected Area (MPA) is abound with beautiful hard corals in the shallows and a coral wall full of fishes everywhere. We saw several giant trevallies, big red snappers, and schools of fish everywhere. I couldn't take photos as much as I normally would because the current around the wall area was very strong.
Our second dive was outside the Sta. Paz MPA where we saw a lot of fish traps which are often a point of debate between divers and local fishers. Some divers destroy fish traps because it damages corals. However, there are areas that allow the use of fish traps as a kind of passive fishing gear.
Unfortunately, we had to abort the third dive because of bad weather. Today is our seventh diving day and every day we are convinced we are right in choosing Panaon for the corals protection campaign and for pushing through with the expedition despite the pandemic. No time should be wasted if we want to protect this beautiful water.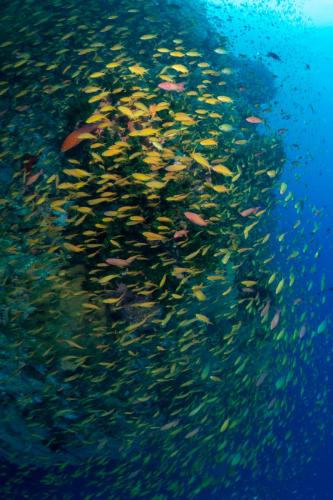 October 27
Today was another good day to visit three Marine Protected Areas (MPAs): Nueva Estrella Norte, Dan-an, and Manglit. Since we lost two days of diving due to typhoon Quinta, we decided to prioritize surveying all the MPAs first.
Perhaps the best dive we've had so far in terms of schools of fish was at Manglit MPA where we saw schools of medium to large food fish such as drummers (ilak), surgeon fish (labahita), fusiliers (dalagang bukid), snappers (maya-maya), and plenty of reef fish. I also saw a bluespotted ribbontail ray peeking from under the corals. (PHOTO)
Aside from the fish life, we were also astounded by the MPA's coral cover. The first thing we saw upon entering the water was a huge shallow area of unbroken foliose coral extending up to the deeper part of the reef. Yvette couldn't help it – she took her regulator and mouthed "WOW!" Exactly my reaction, too.
The only downside though were the ghost nets on the reefs, most of which, we managed to remove. This is an issue that needs to be addressed because ghost nets are made of plastics and end up killing corals and marine life.
While we were anchored between Pintuyan and San Ricardo, a few villagers came out on their outrigger boats just to greet us. It made us feel welcome but at the same time, I felt sad that we will cannot interact with the community because of the pandemic. But we are still very grateful to our partners who welcomed and supported us.