October 6, 2017
Bulungan at the Navotas Fish Complex
Most Filipino fish markets are packed full of peddlers shouting fish prices at the tops of their lungs – but at the Navotas fishport in Manila, fish buying is a quiet business.
The sun rises and sets and illuminates thousands of fish bursting out of neatly-ordered banyeras or fish tubs at the Navotas Fishport Complex (NFCP) in Manila – the largest seafood landing site in the country.
Dubbed as the fishing capital of the Philippines, around 800 tonnes of wild and cultured fish, plus invertebrates like mussels are disgorged by trucks and vessels docked at the Navotas Port daily, providing seafood not just for residents of Metro Manila – but all of mainland Luzon.
"I've been here since the 1970s. I grew up here and used to haul those banyeras day-in, day-out. Eventually I became a fish broker," says Jimmy Santino. Clad in a white shirt, cargo shorts and soiled rubber boots, Santino is but one of hundreds of brokers at the Navotas fishport.
Fish prices are secretly set in a process called bulungan, before buyers from all over Luzon try to outbid each other for the fish. Usually, a broker manages hundreds of banyeras, neatly-arranged in front of prospective buyers. Then the action begins. To score the best prices for their fish, brokers will only accept whispered bids from buyers. The trick is to keep the final price a secret. Buyers would passively whisper their bids to brokers, trying to outbid the competition at the lowest possible cost. Bidders can also give vague hand signals.
After a few minutes, one of the fish brokers announces the winner. Women in knee-length rubber boots and skirts haggle with rotund, shirtless men, while other workers haul and load newly-bought banyeras in parked trucks.
Past midnight, the chaos starts to die down. Trucks form a smoky queue on their way out of the complex, facing long drives to bring fish to the farthest points of Luzon – as far as Ilocos and the Bicol region. Forehead beaded with sweat, Santino calmly sits on a plastic stool, counting a thick wad of thousand Peso bills. When asked how much he made that night, Santino gives a wistful smile. "Only enough for the night and for my family's needs."
The fishport employs around 1000 families engaged in the fish trade. The airy, well-lit complex welcomes buyers and passersby with the overwhelming stench of fresh fish, plus the not-so-fresh waters of Manila Bay. As commercial boats and vehicles unload their catches, huge trucks wait on the other side to distribute fish all over Luzon.
The fish range from expensive Yellowfin Tuna, sold for around Php 5000 per banyera, to Bighead Carp or Imelda which are sold for Php 1000 per banyera.
Other popular fish include freshwater fish such as tilapia and hito, plus marine pelagics including scad, skipjack, and giant mahi-mahi. The dealers say most of the catches are from Palawan, while others are caught from as far south as Papua New Guinea.
Boxes of frozen fish, which locals said were caught in China and Vietnam and 'blast-frozen' or directly stored in freezers and sold at lower prices than locally-caught marine fish, are included in the auctions.
"On slow days, the complex might sell around 4000 banyeras. On good days, we can sell as much as P30,000," Santino reveals.
The Philippines is one of the top wild fish producing countries of the world. And like his peers, Santino believes in the unlimited bounty of the sea. "There's just so many fish for us to catch and sell."
However, the Bureau of Fisheries and Aquatic Resources (BFAR) said that 10 of 13 fishing grounds or about 75% of the country's fishing sites are overfished, with fishers spending more time to catch fewer fish.
To solve the problem, our country instituted policy measures to fight overfishing with special focus on illegal, unreported, and unregulated fishing. In 2015, the Philippine Fisheries Code was amended, finally requiring fishing boats to adopt vessel monitoring technologies, among other interventions for sustainable fisheries management. The Bureau of Fisheries and Aquatic Resources are mandated to put in place science-based fisheries tools such as harvest control rules and reference points, while setting stiffer penalties for violators.
Says Oceana Philippines Vice-president Atty. Gloria Estenzo Ramos, "We're working closely with the government and stakeholders to mainstream innovative and science-based strategies to keep our fisheries afloat such as institutionalizing the use of vessel monitoring technology for all commercial fishing vessels, as required by the amended Fisheries Code." Oceana works across the globe to restore the productivity of the world's wild fisheries.
Aside from policies such as closed seasons, BFAR also committed to adopt a science-based management framework for sardines, one of the largest fisheries of the Philippines – to prevent a fishery collapse, with full stakeholder participation.
As for Santino, he says he'll keep on selling fish. "It's what keeps me and my family alive." Faced with fishing pressure and the rising price of commodities, the stakes are high for him and all others dependent on fish for food and livelihood.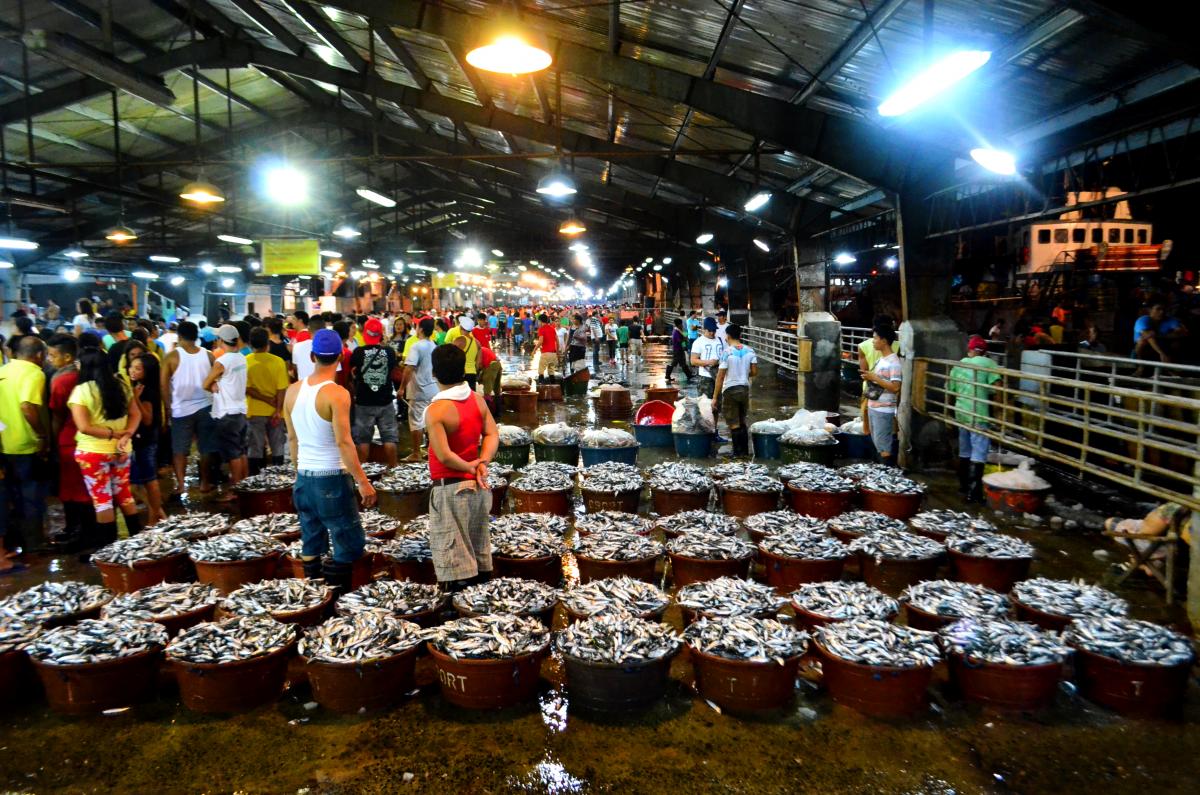 Hundreds of fish-filled banyeras being auctioned by a fish broker at the Navotas complex in Manila, where an estimated 800 tonnes of fish and invertebrates are traded and sold daily. (Gregg Yan / Oceana)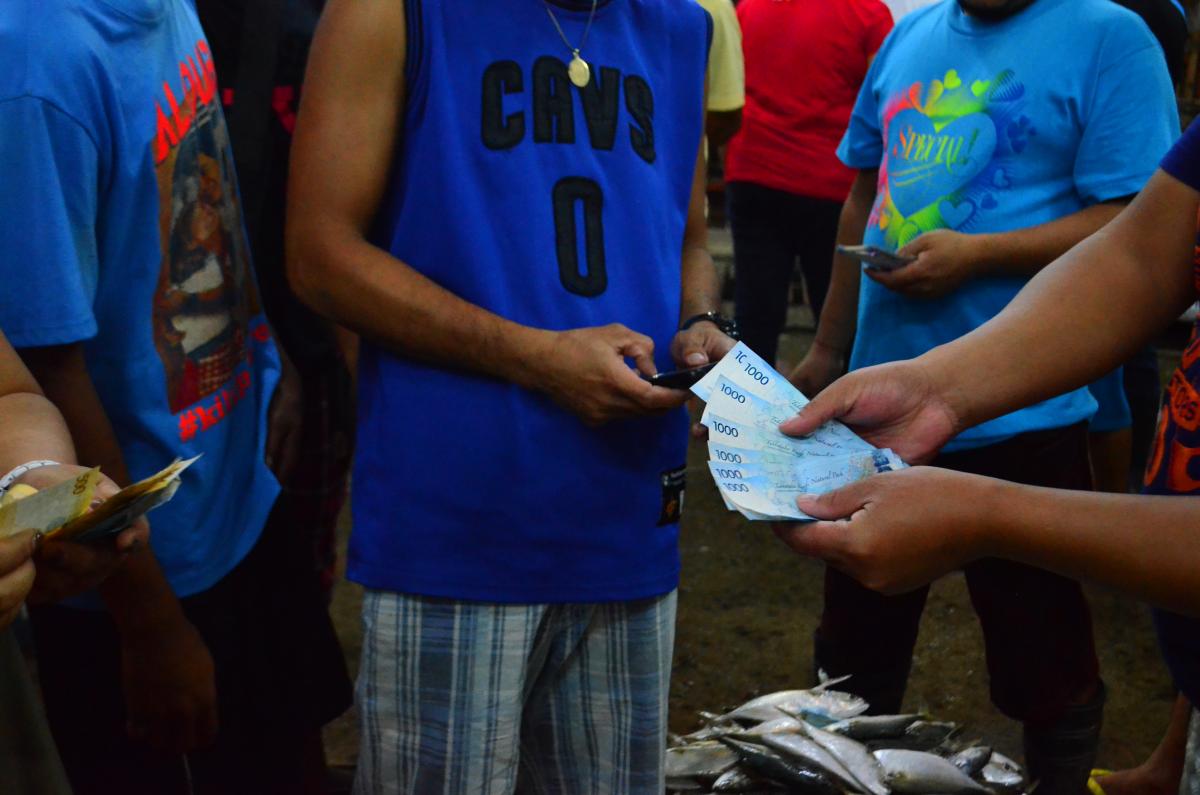 Thousands of Pesos change hands daily as tonnes of fish and invertebrates are sold in a silent auction called the bulungan. (Gregg Yan / Oceana)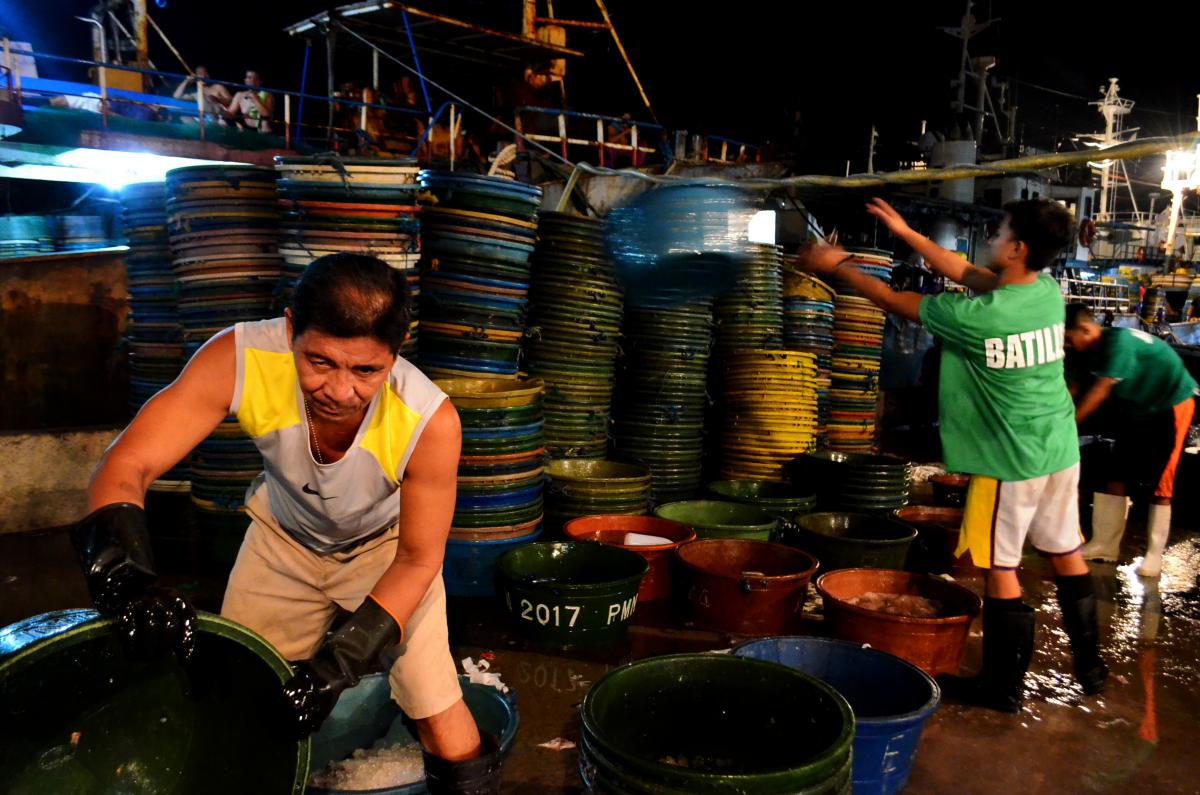 Brawny fish workers unload weathered tubs of wild and cultured fish – destined for markets in Metro Manila and the rest of mainland Luzon. (Gregg Yan / Oceana)