Report | July, 2021
National Sardines Management Plan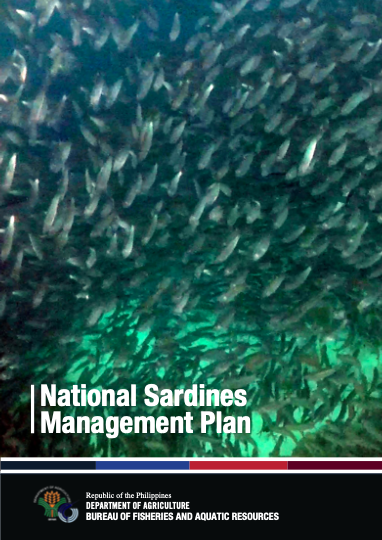 Sardines make up around 15% of total fish catch and is one of the most accessible protein sources for Filipinos. It is also foundational to the marine food web as food for many predators. A large proportion of the production comes from East Sulu Sea/Sulu Archipelagic Waters (Fishery Management Area 4). Other major fishing grounds are Ragay Gulf-Ticao Pass-San Bernardino Strait, Bohol Sea, Moro Gulf-Illana Bay, Sibuguey Bay, and Visayan Sea.
Around 68% of production comes from the commercial fisheries sector while around 32% comes from the municipal fisheries sector. Approximately 48,000 workers are employed in the commercial fisheries capture and the allied canning/bottling industries that target small pelagics such as sardines.The number of municipal fishers that depend on sardines is not known.
This plan aims to guide the coordinated management of sardines across the various Fishery Management Areas through reference points, harvest control rules, and appropriate measures in line with the Amended Fisheries Code 17 (Republic Act 10654). The plan is a product of a participatory process that involved key stakeholders of the sardine industry in the country: scientists/technical personnel, fisheries managers, and various fishers' representatives from May 2018 to early 2020.