University of the Philippines moving towards a "plastic-free" community, and nation
Press Release Date: October 24, 2022
In a pioneering policy, Chancellor Fidel Nemenzo of the University of the Philippines Diliman has directed all deans, directors, head of units, faculty, REPS, administrative staff, and students to implement a " Plastic-Free UP Diliman," making it as a model "green and sustainable campus."  
 
Under UP Administrative Order No. FRN-21-140, Dr. Nemenzo said the Office of the Chancellor and the UPD Task Force on Environmental Sustainability (TFES) launched a community-wide effort towards a plastic-free campus, where single-use plastic is banned from its premises to the extent possible.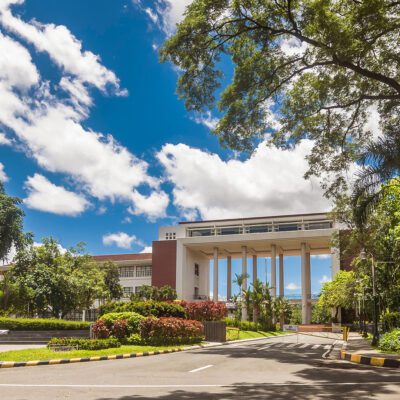 "As a community of more than 30,000 people, our activities, practices, and lifestyles have significant contributions to plastic pollution. We generate unnecessary plastic waste from food handling (e.g., plastic cups, utensils, containers), shopping practices (e.g., bubble wrap, plastic bags), and events (e.g., tarpaulin, balloons, giveaways). The harmful effects of plastics on the environment and on people are well-known facts backed by evidence, and so it is only right that we take action to reduce plastic waste generation in our campus," Nemenzo said.  
 
Oceana Philippines, led by its vice president Atty. Gloria Estenzo Ramos, commends UP Diliman Chancellor Nemenzo for taking the lead and trailblazing the national campaign in the academic community to make the country plastic-free.  
 
"It is a much welcome initiative, and should inspire the UP System, all other educational institutions, national agencies, local government units, and the private sector, particularly those in the packaging industry to follow suit," said Atty. Ramos.  
Oceana, with partners from civil society and local governments, advocates to stop plastic at source by urging the National Solid Waste Management Commission (NSWMC) to fully implement the provisions of Republic Act 9003 (Ecological Solid Waste Management Act of 2000). Under the said law, the NSWMC is mandated to issue the list of non-environmentally acceptable products and packaging, which by definition covers the perilous single-use plastics.  
 
Study shows that of the total yearly production of plastics at 300 million metric tons (MT), 14 MT end up in oceans, risking fish species and other marine life.  
 
Ramos said the COVID19 pandemic has further aggravated such situation because of the imposition of mandatory health protocols — such as wearing of plastic-based personal protective equipment (PPE) — and increase in online commerce and food deliveries which use plastic packaging, a big portion of which ends up in our oceans, too.  
 
"We are happy to reach out to UP for collaboration and support, in its transition towards a plastic-free campus," Ramos added.  
 
Nemenzo also added that "given our long-standing reliance on single-use plastics, we recognize the need for a practical and just transition, to be guided by the 'Roadmap to Plastic-Free UP Diliman,' that contains the short, medium, and long-term goals to achieve the vision. The TFES shall act as the central organizing committee of the plastic-free campus campaign entitled, 'Walang Plastic, Fantastic!' As part of the campaign, they will be organizing consultations and activities with food providers, student organizations, nonacademic, and academic units, community groups, among others."  
 
President Ferdinand "Bongbong" Romualdez Marcos Jr. himself has acknowledged in his inaugural speech, on July 30, 2022, that the Philippines is the third biggest plastics polluter in the world.  
 
"We will look to our partners and friends to help the Philippines, who, despite having a very small carbon footprint, is at the highest risk. First, spare victims; then help them recover; and move on to lessen the harmful impact of climate change. We too have our part to play; we are the third biggest plastics polluter in the world. But we won't shirk from that responsibility; we will clean up," the President said.  
 
Finally, in his State of the Nation Address (SONA), President Marcos declared: "The Philippines has excellent laws on the environment, but we have to guarantee that these laws are properly enforced.  And this will require a great deal of coordination and cooperation between concerned government agencies and private stakeholders. Companies who exploit our natural resources must follow the law. We all have the responsibility to preserve this Earth, for we are but custodians, and we will pass on this great treasure to future generations."  
 
"In this regard, we at Oceana will support initiatives by the government as well as the private sector, civil society organizations and academic institutions in making the country plastic-free and protecting the health of our oceans and precious marine life and our people. We should work together in this fight against the perilous plastic crisis," Ramos concluded. 
For More Information:     
 Joyce Sierra, Communications Manager, Oceana      
Mobile: 09178214430 E-mail: jsierra@oceana.org      
Facebook: www.facebook.com/oceana.philippines     
Twitter: @oceana_ph Instagram: @oceana_ph