The dire consequences of Manila Bay and Lingayen Gulf seabed quarrying: Experts warn of red tide, coastal erosion, loss of fisherfolk livelihood
Press Release Date: December 1, 2021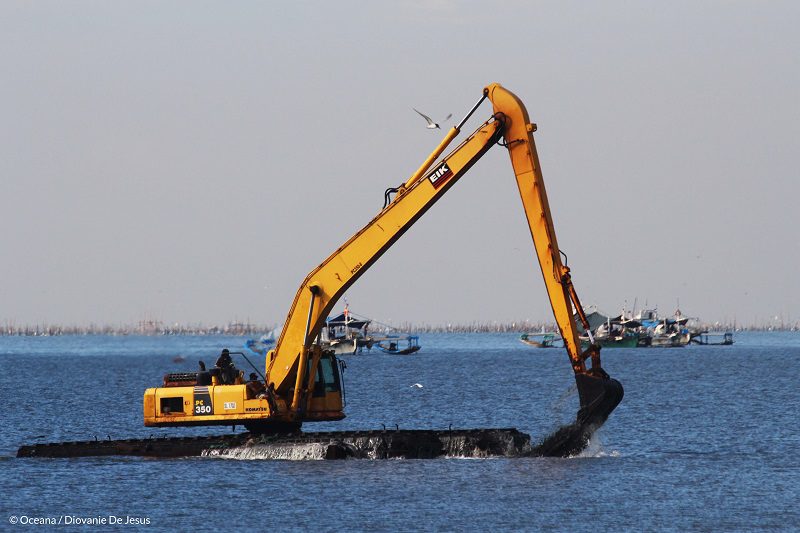 What do we stand to lose if the government allows seabed quarrying activities to continue in Manila Bay and Lingayen Gulf? A lot, according to science experts and concerned groups.
Science experts warn of coastal erosion, red tide (toxic algal blooms), and heavy metal contamination in the Manila Bay and Lingayen Gulf, important fishing grounds that provide food and livelihood to Metro Manila and its neighboring cities and municipalities.
Academician Fernando P. Siringan of the University of the Philippines Marine Science Institute urged the government to think twice before approving applications for seabed quarrying in these areas, given the harmful impacts such projects are known to pose on the environment. He presented seismic data showing how workers would need to dig through more than 10 meters of mud, causing irreversible damage on the seabed and the organisms present.
"May mga lugar na wala naman dating putik, mapupuno naman ng putik. Mababago ang seafloor, ang benthic habitat at kung anumang organismo na nandoon ay maiistorbo at may masamang epekto sa kanila. May mga pag-aaral sa UK na after 15 years of operation ay halos hindi pa nakabalik ang mga organisms na nakatira doon sa seabed," he said.
(There are areas that did not have mud in the past which will soon be smothered. The seafloor will change along with the benthic habitat, and organisms present will be disrupted and endangered. There are studies done in the UK which show how organisms that were ravaged by seabed quarrying were unable to fully recover even after 15 years.)
"Kung ano man ang nasa ilalim ng dagat, mababago mo overall ang character ng benthic habitat hindi lamang doon sa kung saan kinuha ang (filling) material, kung hindi sa mas malawak na lugar. Kung kaya dapat ay masusi ang pag-aaral sa una: ano nga ba ang nandoon sa ilalim? Ano ang bubungkalin? Gaano kakapal ang mga ito? Pangalawa: ano ang mga nakatira doon? Ano ang mawawala sa atin? Kasi kung mabago ang benthic habitat, then may connection iyan sa pangingisda," Siringan added.
(Changes in the overall characteristics of the benthic habitats will occur not only in the area where filling materials are sourced but will spread to other areas as well. That is why exhaustive studies must be done on (1) what lies underwater, what materials will be mined, and how thick this material is; (2) what organisms and marine animals are present and what are to lose from seabed quarrying. Any changes in the benthic habitat will inevitably affect our fisheries.)
Dr. Rico Ancog, Dean of the School of Environmental Science and Management of the University of the Philippines Los Baños, cautioned that in order to be worthy of approval, the benefits of any project that affects the environment must far outweigh the losses. "Any interventions, any changes within this part of our country are surely matters of important concern," he said on the cost-benefit analysis he conducted on Manila Bay, adding that monetizing its existing coastal resources is important because new interventions such as seabed quarrying would trigger changes in the habitats, thereby altering their value.
Siringan and Ancog were among the resource persons during Oceana and National Academy of Science and Technology Philippines' forum which gathered science experts, fisherfolk, and civil society groups who collectively demanded accountability from the government and called for a Senate investigation into the pervasive seabed quarrying projects nationwide.
Ancog's assessment on the Manila Bay resources indicated the benefits provided by its fisheries, aquaculture, mangroves, coral reefs, tourism, as well as the activities of its ports and harbors. "Data show how valuable and thriving the fisheries and aquaculture of Manila Bay are. Economically, Manila Bay is important and wide ranging. Environmental changes will affect fisheries and aquaculture. There might be negative impacts and when we do monetization of those negative impacts, the benefits must be significant – up to a point that if we can hypothetically compensate the costs, there should still be net gains," Ancog added.
Siringan warned, "Bago mabigyan ng permiso ang mga proyektong ito, sana maipakita ang mga magiging epekto. Anong mga heavy metals ang mare-release mula sa mga sediments? Malaking pangamba na dagdag pang input sa environment bukod pa sa mga pumapasok mula sa mga ilog."
(Before permits are released, data on the possible impacts of these projects should be presented. What metals could be released by the sediments? What is alarming is the contamination of the environment aside from those coming from the rivers.)
With the signing of Executive Order (EO) 130, which lifted the ban on mineral agreements in the country, came new seabed quarrying and ore mining activities in Limay, Bataan, Lingayen Gulf, Tayabas Bay, and Cagayan. Meanwhile, land reclamation or dump-and-fill projects are also in the pipeline for Sogod Bay, Cancabato Bay, and La Union. In Manila Bay, these activities persist despite being in violation of the landmark 2008 Supreme Court mandamus ruling, which directed concerned government agencies to clean up, rehabilitate, and preserve the bay pursuant to their respective mandates.
Siringan further identified in his presentation the health risks that seabed quarrying will cause. He explained that disturbing the seabed could cause cysts of Pyrodinium bahamense, the primary cause of paralytic shellfish poisoning or red tide, to be resuspended from the sediments and release toxins in the water. These may in turn contaminate mussels and other shellfish harvested and sold in nearby markets. He also warned that heavy metals in the sediments may also be released into the water channel.
According to Siringan, coastal erosion could also become a problem in the future if seabed quarrying activities continue. "Kapag binago ang hugis ng seafloor, magbabago rin ang direksyon ng alon. Ito ay magiging sanhi ng mas concentrated na wave energy na magiging sanhi naman ng coastal erosion. Ang pagkabawas ng buhangin sa dalampasigan, parang tinatanggal ang suporta sa upper part ng sediments."
(Changes in the seafloor will change the direction of the waves. This can trigger more concentrated wave energy that can lead to coastal erosion. By taking out sand from the shore, you are also removing support from the upper part of the sediments.)
This was echoed by Dr. Irene De Vera of the Pangasinan State University who warned that the drilling being done in Lingayen Gulf was affecting water quality, disrupting sea mammals, fish, and plankton. "Mining is not compatible with Lingayen Gulf. It is used for fishing, tourism and other purposes but not for mining. Due to the deep holes created by drilling, magkakaroon ng coastal or shoreline erosion. Kung magkaroon ng earthquake, mas lalong mag-erode at madi-dislodge ang mga sediments, the water force will go up at maaaring maging sanhi ng tsunami. Lingayen Gulf is prone to tsunami, as high as seven meters. Pwede pong mangyari ito," De Vera explained.
(Mining is not compatible with Lingayen Gulf. It is used for fishing, tourism and other purposes but not for mining. The deep holes created by drilling may cause coastal or shoreline erosion. An earthquake will intensify erosion and dislodge sediments, causing the water force to go up and may result to a tsunami. Lingayen Gulf is prone to tsunami, and an earthquake can trigger a tsunami as high as seven meters.)
It also does not help that the government has refused to consider the plight of coastal communities who will be most vulnerable to the impacts of offshore mining activities. Fisherfolk leader Pablo Rosales, who leads PANGISDA Pilipinas, urged the government to recall the sinking of Narvacan village which he said was inevitably caused by the black sand mining activities in Lingayen Gulf. "Marami nang datos. Sa Lingayen Gulf, dahil sa black sand mining, lumubog ang barangay Narvacan noong magkaroon ng lindol. Hindi pa ba sapat para sabihing tama na ang offshore mining? Ngayon black sand mining na naman sa Lingayen. Hindi kaya ibaon rin nito ang mga bayang nasa coastal areas?"
(There are several data available. Black sand mining in Lingayen Gulf caused the sinking of the village of Narvacan during an earthquake. Isn't that enough to ban offshore mining? Now they are mining for black sand again in Lingayen. Wouldn't this cause the other villages in coastal areas to disappear?)
Oceana said the Philippine Mining Act is clear that offshore government mineral reservations do not allow any mineral agreement applications, including large-scale financial of technical agreements (FTAAs) as these are critical to preserve minerals for critical industries and for scientific, cultural, or ecological value. The group said this cannot be superseded by Executive Order No. 153 (1999) which authorizes the government to use offshore areas not covered by approved mining permits/contracts, including areas covered by pending mining applications, as borrow areas for dredged fill materials for existing and future government reclamation projects.
Oceana Legal and Policy Director Atty. Liza Eisma Osorio explained during the forum that the Fisheries Code, as amended by RA 10654, prohibits activities that damage coral reefs; cause aquatic pollution; obstruct the navigation or flow in any stream, river, lake, or bay; or obstruct defined migration paths. Aside from the national agencies such as the Bureau of Fisheries and Aquatic Resources (BFAR), local government units (LGUs) are also tasked with the protection of fisheries and aquatic resources, specifically for municipal waters.
"Sa COP26, ang daming nag-promise to make us more resilient. Ngunit kailangang tanungin din natin: Anong ginagawa nila dito? How will the Philippines be resilient if its own government allows the brazen exploitation of Manila Bay and Lingayen Gulf and so many other sites where seabed quarrying and ore mining are destroying the marine environment?" asked Atty. Gloria Estenzo Ramos, Oceana Vice President.
(At COP26, many promised to make us more resilient. But we must ask: What are they actually doing here? How will the Philippines be resilient if its own government allows the brazen exploitation of Manila Bay and Lingayen Gulf and so many other sites where seabed quarrying and ore mining are destroying the marine environment?)
"We urge the government to immediately halt these destructive projects before it is too late. It is not enough to merely place a spotlight on the harmful human activities that are slowly killing our planet. We need to call on our government to act now and not allow such destructive practices to continue," urged Ramos.
For More Information:
Joyce Sierra, Communications Manager, Oceana 
Mobile: 09178214430 E-mail: jsierra@oceana.org 
Facebook: www.facebook.com/oceana.philippines
Twitter: @oceana_ph Instagram: @oceana_ph