Oceana, youth, fisherfolk, local lawmakers and former senator sue National Solid Waste Management Commission on plastic pollution
Press Release Date: October 27, 2021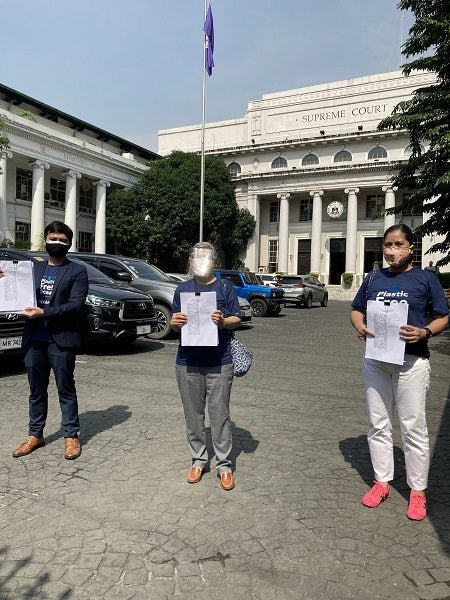 The government is facing a lawsuit before the Supreme Court for its utter neglect on plastic pollution. Fifty-two (52) petitioners, majority of whom are members of the youth sector, fisherfolk, divers, a waste picker, local lawmakers, and civil society organizations are being joined by former Senator Sergio Osmeña III, in filing a petition seeking for the issuance of the Writ of Kalikasan and Writ of Continuing Mandamus for the government's 20-year inaction on non-environmentally acceptable products and packaging (NEAPP).
"As climate activists, we have to talk about plastics because plastics is not just a waste management issue, but a climate issue as well. At every single point of its life cycle, it emits greenhouse gases," added Xian Guevarra of Youth Advocates for Climate Action Philippines (YACAP), one of the petitioners in the case.
The respondents of the petition are the National Solid Waste Commission and its members Environment secretary Roy A. Cimatu, Trade secretary Ramon M. Lopez, Science and Technology secretary Fortunato dela Peña, Health secretary Francisco Duque III, Public Works secretary Mark A. Villar, Agriculture secretary William Dar, Metropolitan Manila Development Authority (MMDA) CEO Benjamin Abalos Jr., among others.
A study released in 2015 by Ocean Conservancy showed that the Philippines produced 2.7 million metric tons of plastic waste – of which more than half a million metric tons ended up in the ocean. Meanwhile, the 2019 Waste Management Brand Audit report of the Global Alliance for Incinerators Alternatives (GAIA) revealed that the country produced 164 million pieces of sachets, 48 million shopping bags, and 45.2 million pieces of "labo" bags every day.
"Yong plastic ay napupunta sa mga corals na breeding ground ng mga isda. Sa pagkamatay ng corals, kumokonti na rin ang mga isda. Malaking dagok ito sa aming kabuhayan at pinagkukunan ng pangkain araw-araw. Unti-unting pinapatay ng plastic ang ating yamang dagat," said a fisherfolk-petitioner who has attested to the alarming decline of fish catch and personally witnessed how marine animals have been harmed and killed by the plastic they ingested.
(Plastic waste is getting caught in corals which serve as breeding ground for fish. The death of these corals means less fish to catch and is a huge setback for us who depend on our ocean for income and sustenance. Plastic is slowly killing our marine resources.)
Oceana Vice President Atty. Gloria Estenzo Ramos emphasized that the NSWMC's continuing neglect of its duty to uphold R.A. No. 9003 was a violation of the Filipino people's constitutional right to "a balanced and healthful ecology."
"Plastic not only affects our environment but results in a whole gamut of concerns that will ultimately threaten our existence as inhabitants of this planet. It puts our food security, livelihood and health on the line. And what is so frustrating is the fact that these problems could have been avoided had the NSWMC acted on its mandate. We are sitting on a time bomb called plastic pollution," she stressed.
Studies have found that plastic is also toxic and hazardous. It contains endocrine disrupting chemicals (EDCs) that interfere with normal hormone balance and function, leading to infertility, cancer, developmental disorders, and other noncommunicable diseases. As of 2017, global sperm counts have declined by 50-60% and epidemiologists have placed the blame EDCs.
Oceana Senior Advisor Alexandra Cousteau, granddaughter of famed French undersea explorer Jacques Cousteau recently spoke about the health risks posed by plastics to human health, citing the 2019 report Plastic & Health: The Hidden Costs of a Plastic Planet by the Center for International Environmental Law (CIEL) which explained that over 170 fracking chemicals used to produce the main feedstocks for plastic have known human health impacts, including cancer, neurological, reproductive, and developmental toxicity, impairment of the immune system, and more.
"The fears that we have about ingesting plastics, including microplastics, is very real. We now have microplastics not only polluting the ocean, but falling from the sky in raindrops," said Cousteau.
The Philippines has been singled out as the largest contributor to plastic emissions in the world in a study published in Science Advances in April of this year. The study said that the country emits 356,371 metric tons of mismanaged plastic waste per year, which passes through 4,280 of its rivers and into the ocean. And as staggering as that figure is, it represents only 8.8% of the total mismanaged plastic waste of the country, which is estimated at 4,049,670 metric tons per year. Worldwide, a report funded by the United Nations Environment Programme (UNEP) estimated that there will be more plastic than fish in the ocean by 2050.
"The two decades that NSWMC has wasted is a clear manifestation that the agency is not taking this problem seriously. The Filipino people have had enough and are now demanding accountability," Ramos added.
Oceana is an international advocacy organization dedicated to protecting the world's oceans. Since 2014, Oceana has been working closely with national and local government agencies, civil society, fisherfolk and other stakeholders to restore abundance of Philippine fisheries and marine resources.
For More Information:
Joyce Sierra, Communications Manager, Oceana 
Mobile: 09178214430 E-mail: jsierra@oceana.org 
Facebook: www.facebook.com/oceana.philippines    Twitter: @oceana_ph Instagram: @oceana_ph