Dustin Cranor, APR
Vice President, Global Marketing and Communications
Executive Committee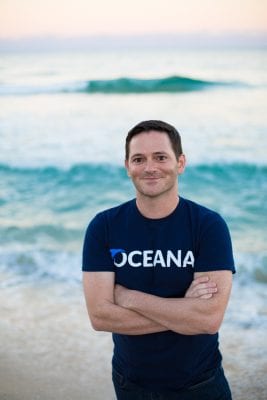 During his 15 years with the organization, Cranor has increased Oceana's brand identity and reputation on both a national and global scale, positioned the organization's campaigns to achieve policy victories for our oceans, and built, led, and grown a highly productive, multifaceted communications team.
Cranor first joined the organization as a communications manager in July 2007, where he led communications activities for Oceana's award-winning campaign to stop government subsidies that lead to overfishing. Since then, he has helped advance Oceana's campaign goals by increasing visibility and public awareness of ocean issues around the globe.
In 2016, Cranor spearheaded the award-winning public launch of Global Fishing Watch, the first free, global view of fishing activity around the world. In 2019, he was instrumental in the public rollout of Oceana Action, Oceana's advocacy partner. Cranor is also responsible for coining the organization's tagline, "Save the Oceans, Feed the World."
Most recently, Cranor served as Oceana's Senior Director of Communications for North America, where he played a critical role in the success of Oceana's campaigns, including those to expose and stop seafood mislabeling, prevent the expansion of dirty and dangerous offshore drilling, and reduce the production and use of unnecessary single-use plastic.
Today, Cranor oversees Oceana's global marketing and communications team, where he is responsible for driving the public messaging for the organization's work and achievements around the world. In addition to overseeing Oceana's social media and online presence, he is responsible for the organization's brand. Cranor also provides strategic communications counsel to Oceana's leadership team and assists with the development of the organization's communications capacity in the countries in which it operates. Not only does Cranor serve as a spokesperson for the organization and a liaison with Oceana's celebrity supporters, but he also oversees the organization's efforts at key events and forums.
Since joining the organization, Cranor has significantly increased its media coverage, securing Oceana in major news outlets, including The New York Times, NPR, The Washington Post, ABC, and The Guardian, among many others.
Cranor was first recognized for his conservation efforts in 2008, when he was profiled as one of the nation's top environmental "movers and shakers" in The Advocate's inaugural "Green" issue.
Prior to joining Oceana, Cranor served as a senior account executive at TheWadeGroup, Inc., a boutique public affairs firm in Washington, D.C. While there, he played an instrumental role in the growth and success of the firm, while also developing effective communications campaigns for numerous clients, including Oceana, the American Gaming Association, The National Center for Responsible Gaming, and Reed Exhibitions.
Cranor is a graduate of the University of Arkansas and is originally from southeast Kansas. Today, he resides in Fort Lauderdale, Florida, with his husband Ronnie and two rescue pups, Scrappy and Pearl.