November 10, 2020
Smooth and Safe Sailing
Planning an expedition under normal circumstance is hard enough in itself. But an expedition during a pandemic? No mean feat. Let's talk to Dr. Edna De Castro, the expedition team's doctor onboard and learn how meticulous planning kept the entire crew safe and healthy during their journey.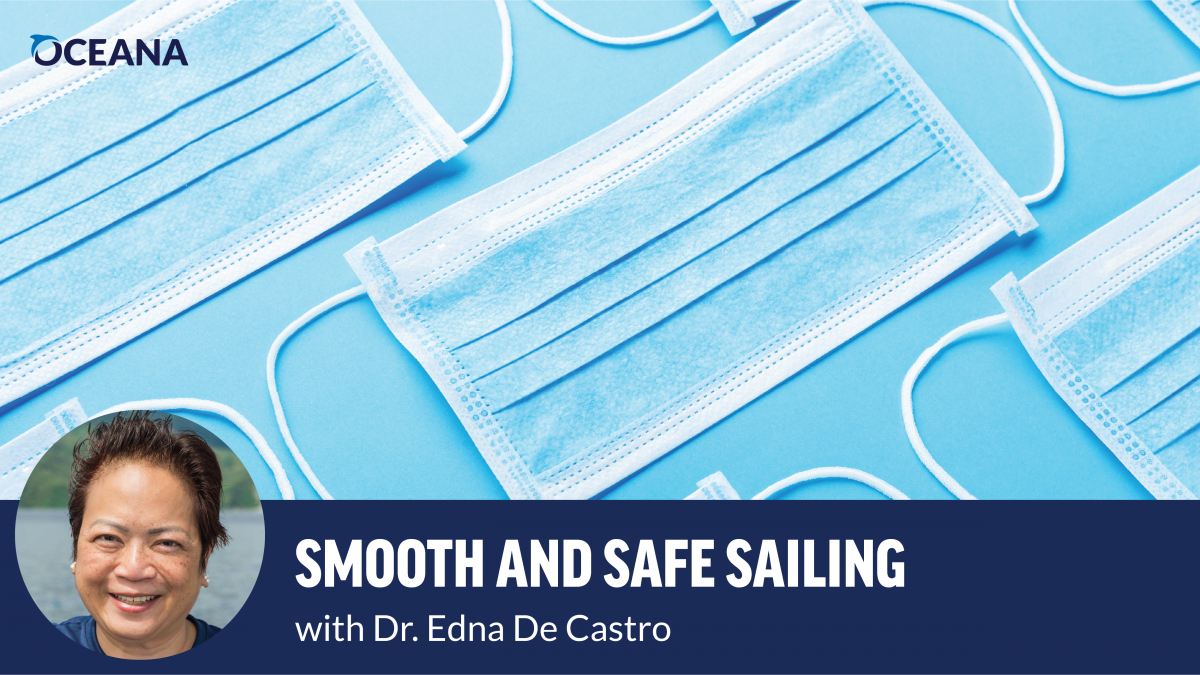 How different is it to provide medical support to an expedition compared to your usual tasks as a doctor?
I loved the experience of being in an expedition, same as being a scientist in the medical field. It is so refreshing to return to the science of the ocean. Preserving marine life is a far greater task than taking care of a patient because taking care of the ocean takes care of the planet.
As an internal medicine specialist with interest in dive medicine and a dive master, I was prepared to handle any dive accident or injury. Fortunately, the dive profile of the scientists did not exceed what was necessary and treatments needed were just for common ear barotrauma conditions and coral and reef stings.
What preparations were made before, during, and after expedition?
The protocols set forth by Dr. Nepomuceno, the team's medical consultant, were very helpful for planning the expedition during the COVID-19 crisis. During pre-boarding, everyone was swab tested for COVID-19 and were then asked to quarantine prior to boarding the ship.
On the ship, we practiced self-disclosure of symptoms, strict mask wearing, social distancing, and frequent washing of hands with alcohol. The M/V Discovery Palawan crew was prepared with alcohol provisions, temperature monitoring twice a day, frequent sterilizing of common areas, and provision of isolation room complete with PPE, oxygen, and walkie-talkies.
Divers and boatmen on the chase boats wore facemasks up until they dove underwater and facemasks were immediately replaced when above water. Our dive gear, especially second stage regulators, were individually hosed with fresh water and sealed in Ziploc bags. Everyone continued wearing masks, observed social distancing, and washed hands frequently with alcohol for two weeks since boarding.
After the expedition, everyone was tested for COVID-19 and were asked to continue to quarantine until the results of the test were known.
How do you make sure that everyone on board follows the strict safety guidelines to avoid COVID-19 transmission?
Everyone was already knowledgeable on the safety protocols to avoid COVID-19 transmission on land, so the same knowledge was applied onboard a ship while at sea. Not to mention that there was complete cooperation and empathy for each and everyone's safety.
What is the biggest challenge you've encountered during this expedition and how did you overcome it?
Everything was uneventful and went smoothly with no serious medical conditions that needed tending to.
Typhoons Quinta and Rolly were the only uncontrollable events but the crew had us docked safely at Liloan Pier. I have experienced firsthand the hard work of Oceana as an organization to keep us safe at all times and the kind of work they do to save our oceans. I feel honored to have participated in the Panaon Island expedition and I am grateful for all the work the organization does to preserve our future. I may care for man but you care for all mankind.