September 17, 2015
Recent Articles on Overfishing in the Philippines Shed Light on Oceana's 'Save the Oceans, Feed the World' Campaign
Scientists, divers and ocean enthusiasts alike all know that the Philippines, a nation of over 7,100 islands, is a marine biodiversity powerhouse. Teeming with rich coral, vibrant fish, and extremely rare creatures like the dwarf sperm whales, scientists hail this region as the "epicenter of marine biodiversity."
It makes sense, then, that Filipinos live off their water's bounty. Not only is the sea a critical economic resource for Filipinos, but it's deeply rooted in their cultural and social heritage: Fish is served with every meal, and seafood comprises over half of Filipinos' protein source. The Philippines is ranked as one of the top fishing nations worldwide, catching more than 2 million metric tons of fish annually that are valued at more than $3 billion, according to Oceana.
Sadly, this biodiversity hotspot and nutritional powerhouse is in trouble. Decades of overfishing, habitat destruction and climate change have decimated this richness, affecting local ecosystems and fisherfolk. Last month, two different Philippine newspapers published articles on just how much these fisheries are suffering and are overexploited, mainly from overfishing and illegal fishing.
The Manila Bulletin reported that 75 percent of Philippine fishing grounds are overfished—a number that Oceana has continuously stressed since its launch in the Philippines last November. The Manila Bulletin attributed overfishing to illegal, unregulated and unreported (IUU) fishing, mostly from large fishing companies.
Furthermore, the Philippines News Agency reported on a new study that found fish catches are down in Negros, the third-largest island in the Philippines and home to over 4 million people. Negros is a poorer region, and over half of its inhabitants—like the rest of Filipinos—depend on the sea's bounty for their livelihoods. In fact, the article reports, fish are the only substance that Negrenses don't import—so a decline in fish catches could have devastating impacts for Negrenses. The paper also focused on climate change compounding to the declines in fishery resources.
"Like in Negros, all Filipinos depend on healthy Philippine waters to feed their families," says Oceana Philippines vice president Atty. Gloria "Golly" Estenzo Ramos. "The pattern of overfishing and illegal fishing that has decimated the bounty and diversity of Filipino waters simply cannot continue at this rate if we wish to continue feeding Filipinos with this resource."
That's why Oceana's "Save the Oceans, Feed the World" campaign work in the Philippines, which aims to both restore fish stocks while simultaneously supplying food into the future, is so critical and timely.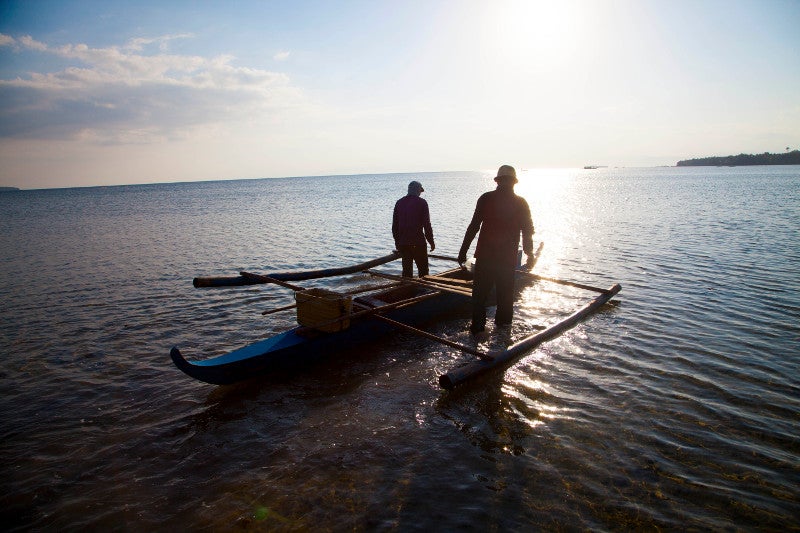 Since its launch in the Philippines last November, Oceana has won several important milestones in its campaign work. Early this year, amendments to the Philippine Fisheries Code became law. The amendments take great steps in cracking down on IUU fishing, including raising penalties for commercial fishing violators and poachers, as well as requiring surveillance cameras on all commercial vessels. And this past spring, the Philippines' Supreme Court issued a landmark ruling, supported and previously worked on by Atty. Gloria Estenzo Ramos, that banned oil and gas drilling from the rich and unique waters of the Tañon Strait Protected Seascape.
"We've made considerable progress over the past year in working to crack down on dirty fishing, protect habitat and make fishing operations more sustainable," says Ramos, "but as these articles highlight, there is still much work to be done. Oceana is continuing to work with both local and commercial fishing to ensure that the Philippines remains a leading fishing nation and biodiversity hotspot."
Click here to support Oceana's work in the Philippines and its Save the Oceans, Feed the World campaign.