October 23, 2020
Panaon Island Expedition Captain's Log: October 14 to 21, 2020

October 14 (Wednesday)
We were supposed to sail today but the incoming Typhoon Ofel made the team decide to postpone the trip to Friday.
Not disheartened though. My boys were happy that I got to spend another day with them, especially my little boy, Juancho, who has been giving me extra hugs and kisses since I started piling up stuff and seriously pack for the expedition. He has been asking how many hours the 22-day expedition will be. He then asked how many minutes. Before he asks me to convert to seconds, I just told him, it will be long.
October 15 (Thursday)
It was raining on our way to Bauan. Upon arriving, we were greeted by very strict security guards. Eventually, we were allowed to go near the M/V Discovery Palawan to load our stuff. By nighttime, we were informed that the Philippine Ports Authority in Bauan finally cleared our documents and the Philippine Coast Guard has lifted the travel ban already. We are finally good to go.
As we slowly moved away from the dock, I thought about my teammates, Erwin and Alvin. I am so sad and sorry that they cannot join the expedition. We've been preparing for this tirelessly for over a year and I couldn't have done this without their help. I hope they know how much their contributions matter to the campaign. I am always grateful for their support and tirelessly keeping up with me.
October 16 (Friday)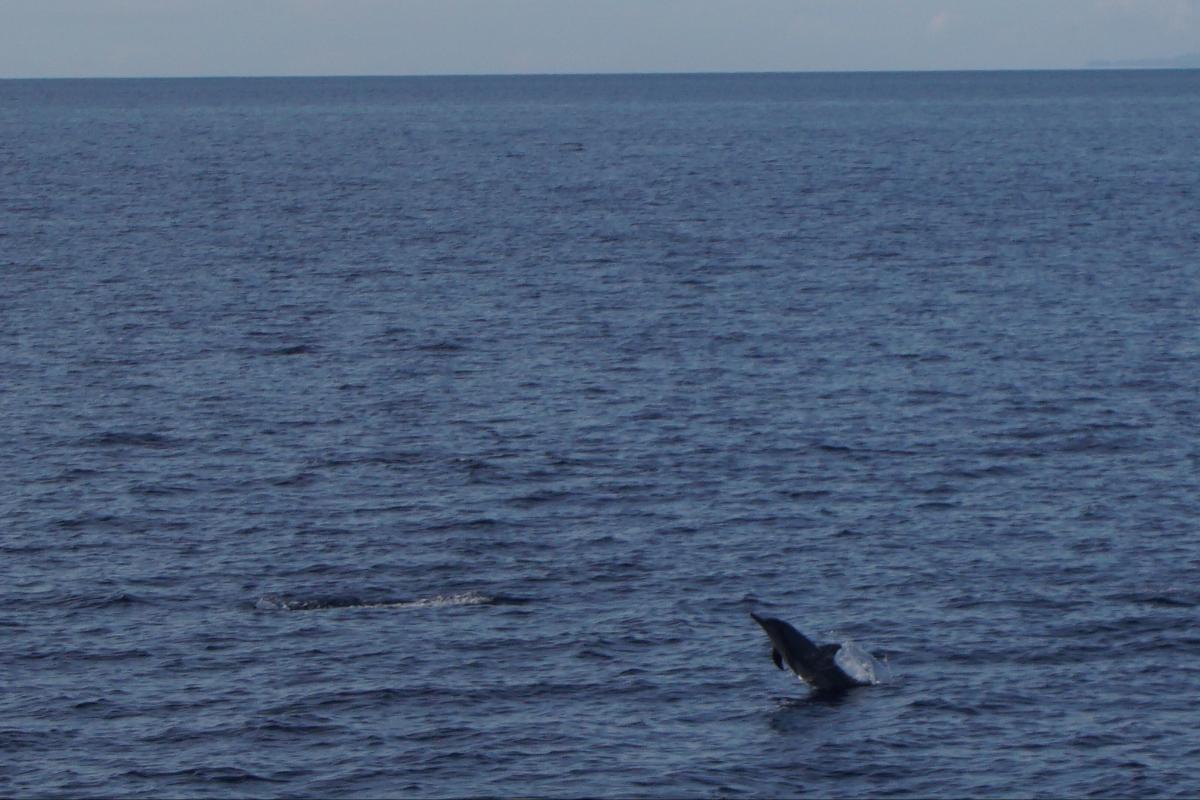 First thing I did when I woke up today was to peep out of my window. I saw vast ripples reaching the horizon. I missed the sea so much! I went out to enjoy the sea breeze. We passed through different islands. When we reached Semirara Island we were delighted to see a pod of short-finned pilot whales resting. Surrounding them are playful bottlenose dolphins. It was a good day to travel. Best part of my day is I get to spend it listening and laughing to fieldwork anecdotes of my two idol marine scientists, Kuya Badi and Kuya Vic.
October 17 (Saturday)
I saw the island of Cebu and remembered the times we spent in Tañon Strait and the surveys and planning sessions we had there. Those events seemed like decades ago. This pandemic seems like forever.
We are expected to arrive by lunchtime at San Ricardo – the southern tip of Panaon Island. We were informed that a low pressure area is developing near Surigao so we decided to take shelter on the west side of Panaon in Lilo-an and start the first day of dive in the western side at Gudan Sanctuary then proceed to the eastern side as originally planned. However, the low pressure area did not develop and we proceeded to have the assessment at the northeast side and continue southwards in Catig.
October 18 (Sunday)
I was awakened by the sound of raindrops hitting the steel plate of the ship. It's 2AM and I can't go back to sleep, so I went to the bridge and talked to the officer-in-charge. He assured me that the winds will not be a problem and that we are going to be fine. I went back to bed and slept soundly.
The morning marked the start of the field work. Everyone was up early and eager to get into the water after more than two days of traveling from Batangas to Panaon Island.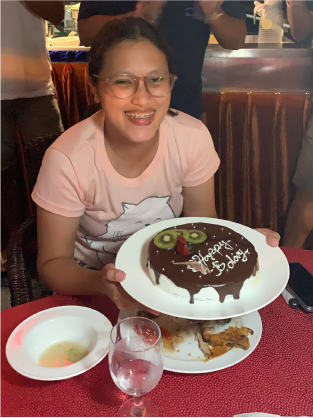 Today was also Bew's birthday, our research assistant. We were so lucky to have a resident pastry chef on board. The team agreed that no one will greet her for the whole day and just go about our schedule. After dinner, we surprised her with a freshly baked moist chocolate cake. The crew sang a happy birthday song which she sang along with, not realizing that the surprise was for her.
We ended with a short debriefing to adjust schedules and roles for the following dives. We had a tiring yet fulfilling day.
October 19 (Monday)
It's the second day of field work. The sky is full of puffy and heavy clouds but the waters are relatively calm on the surface.
Danny's group was the first to arrive. While approaching the mothership, Danny was shouting "The reef was so beautiful! The foliose corals were massive!" Then Marco's came in and he was taken by the beauty of Panaon. "Mar, the reefs were so pretty!"
With every dive, reports from the divers get better and better, even from sites that are outside the marine sanctuary. I feel good that I chose the right area to recommend for protection. I am really looking forward to the next sites.
October 20 (Tuesday)
There were rain showers during the dives. The sound of the rain and the sea breeze lulled me to sleep while monitoring the dive team and hoping to catch internet signal.
Dive team reported wide patch of soft corals. Yvette Lee, a famous underwater photographer, said that though the site was not a sanctuary, it is already comparable to Tubbataha. This gives me the affirmation that I have chosen the right place so that Panaon will have the attention and protection it deserves.
October 21 (Wednesday)
There is another low pressure area developing near us in the Pacific side AGAIN! Nori, the boat manager, advised me that we will be experiencing rains and winds again. Good thing we are done with most sites in the east site.
Though there were challenge in visibility, they still saw the beauty Gud-an boasts, even outside its marine sanctuary. However, on this dive, seven crown-of-thorn seastars were spotted in a 75×25 survey area. Crown-of-thorns seastar (Acanthaster planci) is a natural component of reefs in the Indo-Pacific.
Mar Saniano received her master's degree from the University of the Philippines in Los Baños where she majored in Zoology with a minor in Environmental Science under one of the most respected reef fish scientist Dr. Vincent Hilomen. She then worked as a researcher for the SeaLifeBase Project before becoming a marine scientist and eventually a Science Campaign Manager for Oceana Philippines. In her past campaign, she worked on getting a Presidential Proclamation for the protection of a portion of the Philippine Rise, a 13-million hectare undersea extinct volcanic ridge off the coast of Luzon. She is a certified SCUBA diver and have experienced live-aboard expeditions both in Benham Rise and during her master's thesis in Tubbataha Reef.