November 5, 2020
Danny's Dive Diaries: October 30 – November 4, 2020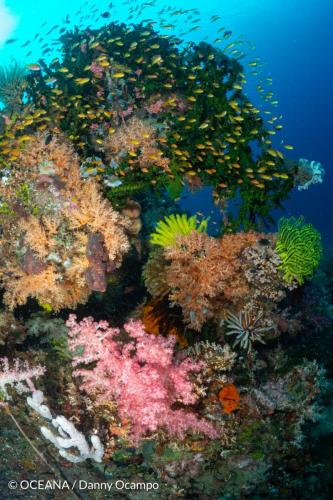 October 30
Today is a milestone for the expedition as we finally managed to visit and survey all the locally managed MPAs in Panaon Island. Our general impression is that the MPAs are functioning as areas where fish and other marine life are protected which help adjacent and nearby areas in regenerating fish, corals, and other marine life. There are also control sites or areas outside MPAs that are spectacular in terms of fish and coral cover. However, there are MPAs that show possible fishing pressures as exhibited by the ghost nets and abandoned fishing lines we found. As Dr. Vic said, all of dives were spectacular with each site having its own beauty and special characteristics.
In today's dive, for example, we observed fields of unbroken branching corals (Acropora) while in another MPA, it is the smaller more fragile branching corals that caught our attention. These are sensitive to breakage which is why it is important that these areas enjoy continued protection and if ever there would be tourists visiting in the future, measures should be in place to ensure that irresponsible divers and underwater activities are avoided.
We have been seeing sea turtles on a regular basis, but they are obviously not used to seeing divers. Their presence alone warrants protecting these waters since both green sea turtles and hawksbill turtles are considered endangered and critically endangered, respectively.
Tomorrow, we will dive in areas outside MPAs. After 10 diving days and 30 dives, I congratulate Marianne and the coral team for choosing Panaon Island and for a successful expedition. We have two more days and six more dives before we head back to Bauan.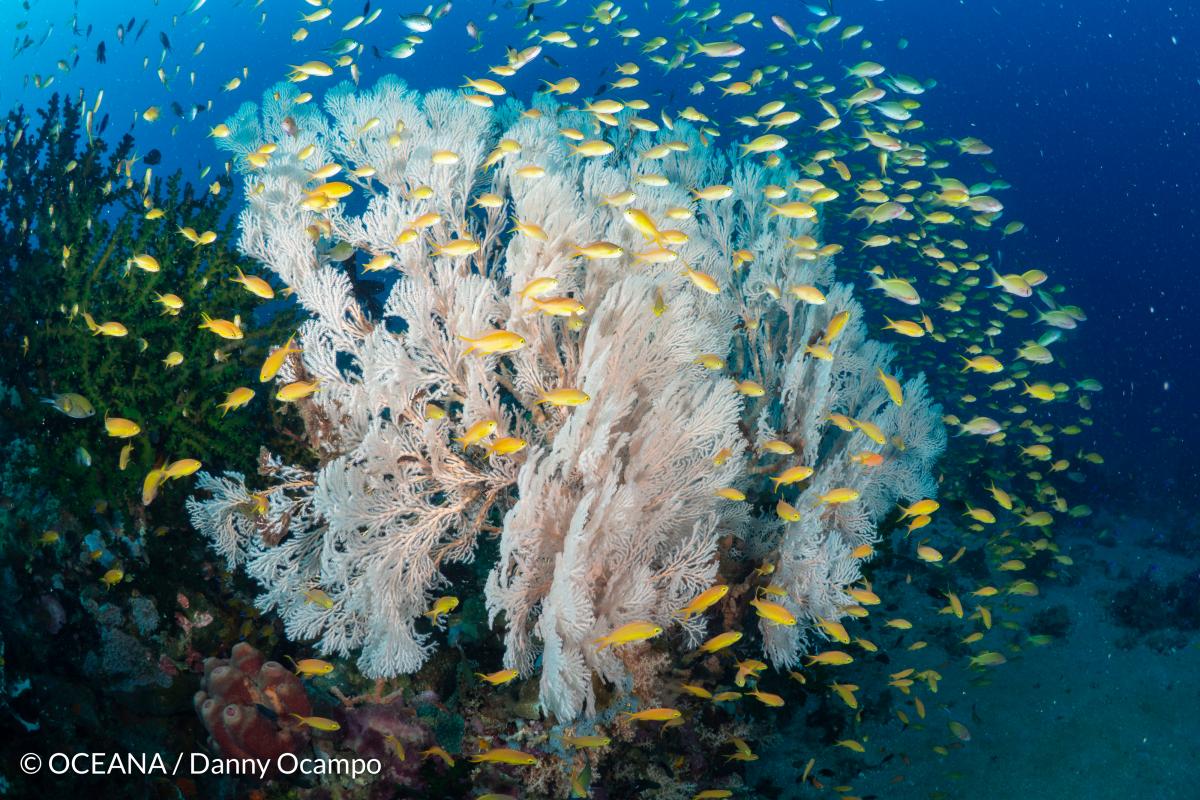 October 31
I can't believe that today is probably our last diving day but we had to abort the last dive because the waves and winds were getting stronger.
I am very convinced that Oceana's decision to push through with the expedition was the right thing to do. The partnership with the stakeholders here is very crucial in protecting the very beautiful coral reefs and marine life around here before it's too late. Even though we have seen some very good coral cover, comparable to the best in the country, we have also seen some indicators that the reefs need further protection from human activities, climate change, and other stressors.
This morning we were lucky to visit a very good reef outside Balong-Balong marine protected area. Despite not being designated as an MPA, the reef is teeming with life. The strong current is probably the reason why this area has many reef fish but what was really nice about this area are the emperors we saw prowling the reef. The corals were beautiful and colorful plus their diversity was outstanding: soft corals, hard and stony branching, massive and foliose, and tubastrea strands. The sea fans are also immense and unbroken, something that is not possible in areas of high exploitation or those with unregulated tourism.
Here's to looking forward to future engagements with our partners in protecting Panaon Island! Cheers and congratulations to Marianne and her team and our tireless communications team who are working 24/7 these past few days to ensure that we gather enough data and materials to support our call to protect this treasure in the southeastern area of the Philippines.
November 4, 2020
After two days of sheltering in port of Liloan, Leyte, we managed to leave for our return to Bauan, Batangas around lunch time on November 2. The original plan was to leave Southern Leyte on the eve of October 31 and arrive on November 2 in Batangas. As part of the COVID-19 protocols we are following, everyone onboard will be tested again and will only disembark after the results are available and if everyone gets a negative result.
I was quite excited to go back to Anilao and celebrate my birthday there but due to the typhoons, our departure was delayed. This means I had to celebrate my birthday aboard M/V Discovery Palawan. But they made sure that it was a memorable one.
I woke up this morning at around 5:00 am. I briefly checked my phone and saw that I have quite a few messages on Facebook but decided to check them later when I am above deck so I can enjoy some quiet time before everyone wakes up. It is a cloudy day and last night we had to brave two strong squalls around the Romblon Islands. Then I realized that despite spending my birthdays on land and close to the sea for the past 50 years, this is my first birthday ON THE SEA! I was also thinking of how the year went by and, despite the pandemic, I feel rewarded that our achievements in the Philippines as an organization is still substantial due to the great leadership and teamwork that we have. I was reviewing my dive diaries as well and I feel so lucky to have been on this expedition even though I was not supposed to join due to the busy schedule of the campaign I am handling.
After breakfast, I was looking out into the horizon when one of the boat crew said: Look, dolphins! And lo and behold, a pod of maybe 20 dolphins on the surface were circling an area around 50 meters from our starboard side. They looked like they are feeding and didn't approach our boat to bow ride. A bit later, the boat manager, Nori, asked everyone to go to the dining area of the ship and the whole crew and expedition team sang me one of the best happy birthday songs I've heard (plus a sparkler and a delicious cheesecake!).
It is still only 10:00 am and my good friends on board have offered a toast of rhum and there are plans to have some party later where I volunteered to be the DJ. We are expected to arrive in Batangas early evening and after 22 days at sea, I feel so blessed to celebrate my birthday at sea after our expedition to the beautiful Panaon Island. Lastly, if I get asked what's my birthday wish for today, my answer would be nothing for myself, but I hope peace and for everyone else and a bluer ocean for our planet.