Small fishers are key food security players 
Press Release Date: October 17, 2022
Municipal or artisanal fisherfolk provide more food fish for humans than commercial or industrial fishers. Almost all or 90 to 95 percent (%) of their fish catch are for human consumption.  
Such is the critical role of small fishers in attaining national food security, said Oceana, an international organization advocating to protecting the world's oceans, at the recent Small-Scale Fisheries (SSF) Summit, in Rome, Italy. 
"Indeed, fish is critical to nutrition and food systems, and small fishers play a pivotal role in providing people and communities their daily food requirements," said Atty. Rhea Yray-Frossard, Oceana's Campaign and Research Director, at SSF Summit panel session on "Small-scale fisheries and their role in local food security." 
She represented Oceana at the SSF Summit, held September 3 to 4, 2022, that shared stories of artisanal Filipino and Chilean fisherfolk in conserving fishery resources through inclusive and participatory implementation of fishery laws and regulations, in partnership with their respective national fishery agencies, and local governments. 
Yray-Frossard was joined by Sonia Sharan, Oceana global impact and economics manager; Cesar Astete, Oceana senior campaign manager in Chile; and Chilean fisherman Rodrigo Flores. 
"Together, we shared stories of Filipino and Chilean fisherfolk, and our continuing advocacy to bring their voices to said international forum. We also presented the study on fish in nutrition systems in the Philippines and Chile," said Yray-Frossard. 
"We also informed other fisherfolk and partner-CSOs on Oceana's major strides and milestones towards better fisheries management in the Philippines since 2014," she added. 
Another critical contribution of small-scale fisheries is that it provides at least 40% of the global catch, making them a major fish food provider, according to the UN-FAO. 
"Thus, we should all the more empower small-scale fisherfolk, including the women as they are our strong allies and heroes in protecting and restoring the abundance of our oceans that provide all of us not only with affordable nutritious food, but also as their sustainable source of livelihood and income," she added. 
Further, she said, "as they are highly vulnerable to adverse impacts of climate change and the pandemic, there is a compelling need for government to provide them needed support and technical assistance," Yray-Frossard said in her presentation, entitled "Steering the Boat with Filipino Fisherfolk in the Philippines." 
"We strongly urge government to continue to give our small fishers a voice in decision-making especially in management bodies under the Local Government Code, Fisheries Code, and the Fisheries Management Areas Management Boards. Likewise, working with stakeholders, there is a strong need to implement an effective ecosystem approach to sustainably manage the country's fishery resources," she added.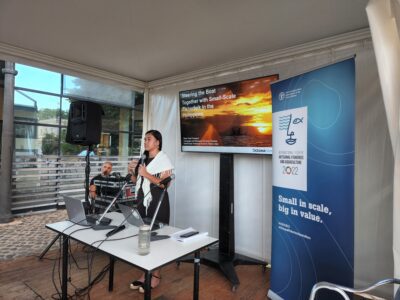 At the SSF Summit panel session, she informed them of Oceana's work with fisherfolk on the "FMA Classroom" that serves as a platform to connect with fisherfolk amid the pandemic, the fostering of stronger linkages with coastal communities in blocking successfully a proposed legislation that would relinquish their rights in municipal waters, and share community-based initiatives by fisherfolk in the implementation of a science-based, inclusive and participatory Fisheries Management Area (FMA) system.   
Said policy was implemented in 2019 by the Department of Agriculture-Bureau of Fisheries and Aquatic Resources Fisheries (DA-BFAR) through Administrative Order No. 263. 
At the SSF Summit, Oceana also presented two recently published reports that identify the most important fisheries and farmed species for food security and livelihoods, and highlighted the role of small-scale fisheries in local food security in the Philippines and in Chile. 
She said small-scale fisheries play a key role in Filipino food and nutrition security and livelihoods, but are under threat from overexploitation, climate change, and macro-economic shocks. "We also discussed potential policy interventions to safeguard the small fisheries sector," she added. 
Oceana recently conducted a study on the "Fish in Nutrition Systems in the Philippines" together with the Department of Science and Technology-Food and Nutrition Research Institute (FNRI) and MRAG Asia Pacific. 
The Rome Summit was part of the observance of 2022 as the "International Year of Artisanal Fisherfolk and Aquaculture" or IYAFA. It served as a forum among small fishers and fishing industry workers, NGOs, and decision-makers, ahead of the 35th Session of the Committee on Fisheries (COFI) of the UN Food and Agriculture Organization (FAO), September 5 to 9, 2022, also in Rome. 
Oceana is an international advocacy organization dedicated to protecting the world's oceans. Since 2014, Oceana has been working closely with national and local government agencies, civil society, fisherfolk and other stakeholders to restore abundance of Philippine fisheries and marine resources. (END)
For More Information:    
Joyce Sierra, Communications Manager, Oceana     
Mobile: 09178214430 E-mail: jsierra@oceana.org     
Facebook: www.facebook.com/oceana.philippines    
Twitter: @oceana_ph Instagram: @oceana_ph