Scientists, fisherfolk, civil society groups raise alarm on destructive seabed quarrying, investigation, accountability sought
Press Release Date: November 5, 2021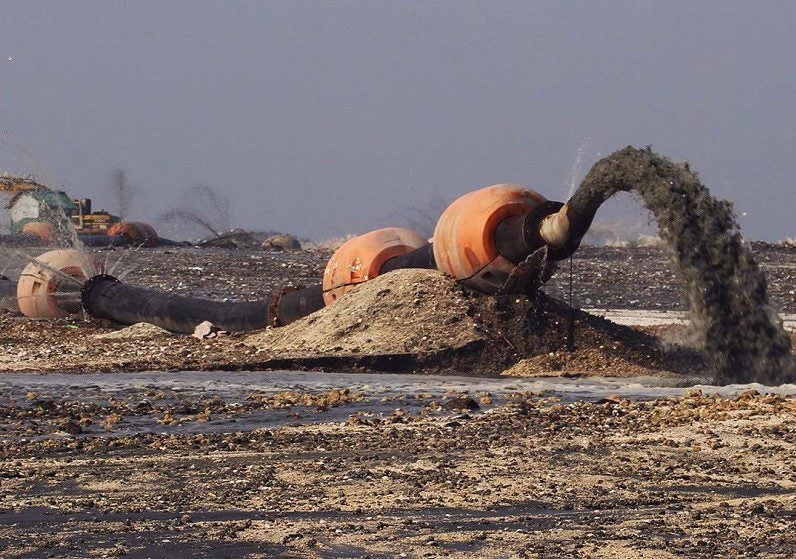 Experts in science, fisherfolk, and civil society groups demand accountability from the concerned national and local governments and called on the Senate for investigation as massive seabed quarrying projects continue to threaten coastal and marine habitats including fisheries resources nationwide.
"Seabed quarrying requires scraping of the seabed for filling materials needed for dump-and-fill also known as reclamation projects. The science is clear that seabed quarrying and ore mining cause massive damages and losses in fishing grounds that serve as sources of livelihood for subsistence fisherfolk, not to mention the irreversible destruction these will cause on the fragile marine ecosystems that we are trying to safeguard and restore in order to be resilient against climate change. The government should immediately stop these projects before it is too late," said Atty. Gloria Estenzo Ramos, Oceana Vice President.
Executive Order (EO) 130 that was signed by President Rodrigo Duterte in April 2021, lifted the ban on mineral agreements in the country.
Seabed quarrying and ore mining activities are underway in Limay in Bataan, Cavite, Tayabas Bay, Lingayen Gulf, and Cagayan while land-reclamation or dump-and-fill projects, are also in the pipeline for Sogod Bay, Cancabato Bay, and La Union.
In Limay, Bataan, PANGISDA Pilipinas leader Pablo Rosales lamented the degradation the activity is causing on the marine environment on which they rely heavily for income. "Itong pag-istorbong ginagawa sa ilalim ng dagat kung saan nakatira ang mga isda at iba pang lamang-dagat ay nakakaapekto sa kabuhayan naming mga mangingisda. Dito sa Bataan kung saan ginagawa ang mapaminsalang seabed quarry, pinangangambahan namin ang magiging dagok nito sa aming ikinabubuhay. Sana naman isipin rin ng gobyerno kaming mga mangingisdang naghahatid ng pagkain sa mga komunidad."
(The destruction caused by seabed quarrying affects not only marine life but also the livelihood of fisherfolk. Those of us based in Bataan fear the impact of the planned seabed quarrying project in the area. We call on the government to care for our fisherfolk who bring food to coastal communities.)
Rosales is referring to the seabed quarrying project of Cargon Mining Corporation whose project description revealed that to hasten the verification of offshore mineral resources, the company secured an authority to explore ahead of the Government Seabed Quarry Permit (GSQP). By doing so, it sidestepped conducting a full-blown environmental impact assessment (EIA), an ecological profile of the proposed mining area, and prior consultation with local government units (LGUs), non-government organizations, people's organizations, and the affected communities before conducting exploration of the site, as so required by various national laws.
"The government gave approval to these seabed quarrying projects despite the acknowledged biological effects like losses of marine resources, and will result in domestic wastewater, and solid waste and hazardous wastes. These run against Philippine laws which aim for food security, protecting the rights of small-scale fishers and coastal communities, and establishment of the country's science-based Fisheries Management Area (FMA) system," said Ramos.
In the case of seabed quarrying projects in Manila Bay, Oceana pointed out how these go against a landmark 2008 Supreme Court mandamus ruling which directed concerned government agencies to clean up, rehabilitate, and preserve the bay pursuant to their respective mandates. The Department of Environment and Natural Resources (DENR) is one of the mandated agencies tasked to implement this and restore Manila Bay waters to Class SB which would render it safe for recreational activities and fisheries.
A 2018 study on the impacts of seabed mineral extraction revealed that seafloor habitats will not recover for decades following disturbance, causing more chronic impacts to the marine environment.
Coral reefs, seagrass beds and soft bottom ecosystems have been identified as those most vulnerable to these projects. One of the major impacts of substrate extraction is the change in the seabed morphology which causes the loss of endemic organisms found in the seafloor substrate. The use of hydraulic dredgers trigger water pollution and causes the unintentional removal or burying of marine organisms found on the seabed.
Meanwhile, another study in 2018 discussed how deep-sea mining can cause nutrification, sedimentation and siltation that can smother coral reefs and filter-feeding organisms. It also has a negative impact on megafauna like whales, dolphins, and sea turtles as well as on photosynthetic organisms like phytoplankton.
The Philippine Mining Act is clear that offshore government mineral reservations do not allow any mineral agreement applications, including large-scale financial of technical agreements (FTAAs) as these are critical to preserve minerals for critical industries and for scientific, cultural, or ecological value. This cannot be supplanted by Executive Order No. 153 (1999) which authorizes the government to utilize offshore areas not covered by approved mining permits/contracts, including areas covered by pending mining applications, as borrow areas for dredged fill materials for existing and future government reclamation projects.
Meanwhile, the Fisheries Code as amended by RA 10654 prohibits activities that damage coral reefs; cause aquatic pollution; obstruct the navigation or flow in any stream, river, lake, or bay; or obstruct defined migration paths. Aside from the national agencies such as the Bureau of Fisheries and Aquatic Resources (BFAR), local government units (LGUs) are also tasked with the protection of fisheries and aquatic resources, specifically for municipal waters.
On Monday, November 8, Oceana and the National Academy of Science and Technology, Philippines (NAST PHL) are convening the National Colloquium on Direct Impacts of Seabed Quarrying and Ore Mining following the reported influx of new mining projects in coastal and marine areas.
Representatives of fisherfolk and communities affected by seabed quarrying projects in Limay, Bataan; Lingayen Gulf in Pangasinan; and Tayabas Bay in Quezon will speak in the science colloquium on November 8. The other speakers are Academician Rhodora Azanza, NAST PHL; Academician Fernando Siringan of the University of the Philippines Marine Science Institute; Dr. Rico Ancog, Dean of the University of the Philippines Los Baňos School of Environmental Science and Management; and Atty. Liza Osorio, Oceana's Legal and Policy Director.
For More Information:
Joyce Sierra, Communications Manager, Oceana
Mobile: 09178214430 E-mail: jsierra@oceana.org
Facebook: www.facebook.com/oceana.philippines Twitter: @oceana_ph Instagram: @oceana_ph