Oceana urges local governments to prioritize fisheries management, ecological protection, promote food and nutritional security and ensure resiliency of marine habitats and communities from dump-and-fill projects and climate change
Press Release Date: April 1, 2022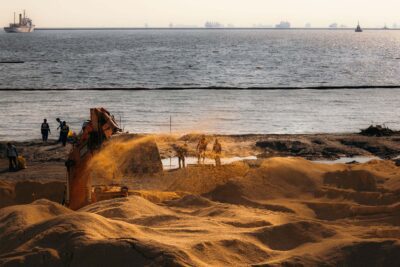 "The local governments have a shared responsibility with national agencies in the maintenance of ecological balance and thus should take the overall responsibility in their jurisdiction that proposed projects do not harm coastal and marine resources and the livelihoods of their constituents including those in residing along the coasts. Allowing ecologically disastrous projects such as dump-and-fill known as land reclamation is inconsistent with that mandate. We commend the Department of the Interior and Local Government (DILG) under the leadership of Secretary Eduardo Año, for the strong policy action to deter these projects which violate the right of the people to a healthful and balanced ecology by reminding the local authorities to prioritize ecological protection. These should be in accord with the local development plans, coastal resource management plan, land use plan, climate change action plan, among others, which local government are tasked to perform," said Oceana Vice President Atty. Gloria Estenzo Ramos.
International advocacy organization Oceana unveiled on Tuesday the Citizen Scorecard to strengthen the aforesaid policy issuance by the DILG and provide a guiding tool for citizens in the environmental impact assessment and legal safeguards. The DILG also launched Memorandum Circular 2022-018 which reiterates the responsibility of all LGUs over projects covered by the Philippine Environmental Impact Assessment Statement System (PEISS) and provides the necessary guidelines for them. Under the PEISS Act and several environmental laws, proposed projects such as dump-and-fill have to be thoroughly assessed in their environmental, climate, cultural, social and health impacts. Violators of the various laws face administrative, civil, or criminal liability.
"The scorecard will enable constituents to assess compliance with the existing environmental, fisheries and other related laws in processing application and approval of reclamation projects. Citizens have the most to lose if destructive dump-and-fill projects and other unwarranted development of coastlines continue to persist. The proponents of these projects, including local governments, must not be allowed to circumvent relevant rules and regulations, and cause us to be more vulnerable to the continuing loss and damages on our coasts and oceans amid the declining state of fisheries, biodiversity degradation and climate vulnerability," Ramos declared.
The Oceana leader said dump-and-fill activities all over the country are causing massive and irreversible impacts on coastal and marine ecosystems. "We must protect these resources from which we derive food, livelihood, nutritional security, and climate resiliency. We urge our fellow Filipinos to use this scorecard as this is an empowering tool for participatory and accountable governance and preventing further environmental impacts of these projects," she added.
The scorecard was devised by Oceana for citizens and stakeholders to rate the compliance by proponents of dump-and-fill activities with its impacts on coasts and marine habitats which are covered by the PEISS and related laws. It will enable citizens and stakeholder communities to check if all the required steps are fulfilled in processing the proposals for dump-and-fill and other similar projects. Among the questions asked are whether genuine public consultations and public hearings were conducted on the Environmental Impact Study (EIS) of the project.
"Malaking tulong sa aming mga mangingisda at mga kasama namin sa mga baybaying komunidad ang pagtitiyak na sumusunod ang mga lokal na pamahalaan sa lahat ng mga rekisitong itinatakda ng batas. Para sa amin, hindi lang dapat mga lokal na pamahalan kundi maging ang mga pambansang ahensya ay nag-uugnayan at nagtutulungan upang pangalagaan ang ating karagatan at pangisdaan. Ito ang aming kabuhayan. Higit sa lahat, dito umaasa ang ating mga kapwa Pilipino para tiyakin ang na may pagkain tayo at mga susunod na henerasyon sa ating hapag-kainan," said Roberto Ballon, 2021 Ramon Magsaysay and Ocean Heroes awardee and President of Katipunan ng mga Kilusan ng Artisanong Mangingisda sa Pilipinas (KKAMPi), a newly established national coalition of fisherfolk federation and organizations in the country.
According to Ramos, the national agencies and LGUs must ensure the protection of the coastal and marine environment. Coastal cities and municipalities have primary jurisdiction over the sustainable management of municipal waters; thus, they must be accountable since it is in their purview.
"The Philippines has the fifth longest coastline in the world. About 60% of its municipalities and cities are coastal, with 10 of the largest cities located along the coast. We ranked second in the world to be considered as having the most number of people highly dependent on a healthy marine ecosystem, next to Indonesia. It is incumbent upon LGUs of these municipalities and cities to strictly follow the safeguards in the Philippine EIS System and related rules and regulations," she said.
"We urge the local governments to exercise great care and caution when they deliberate on dump-and-fill proposals.  Oceana's scorecard is a valuable tool to help them in handling projects that can potentially harm the marine environment. Dump-and-fill projects cause permanent and irreversible damage to coastal habitats and estuaries which serve as spawning grounds of many economically important fishes and are important in securing food security," Ramos added.
Oceana is an international advocacy organization dedicated to protecting the world's oceans. Since 2014, Oceana has been working closely with national and local government agencies, civil society, fisherfolk and other stakeholders to restore the abundance of Philippine fisheries and marine resources.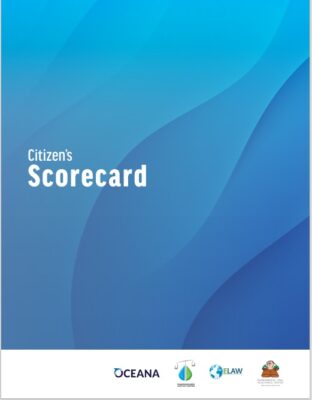 For More Information: Joyce Sierra, Communications Manager, Oceana  Mobile: 09178214430 E-mail: jsierra@oceana.org  Facebook: www.facebook.com/oceana.philippines Twitter: @oceana_ph Instagram: @oceana_ph