Deter Illegal Dump and Fill Activity
The Manila Bay Area spans 199,400 hectares with a coastline that runs through Cavite, Parañaque, Pasay, Manila, Malabon, Navotas, and Bulacan, Pampanga, and Bataan provinces. According to the Philippine Reclamation Authority, there are 23 proposed dump-and-fill projects along Manila Bay.
Manila Bay has been a witness to battles that changed the course of our country's history. Now, it is battling an environmental war within our waters against these dump-and-fill projects hiding behind the promise of livelihood opportunities and development for these projects.
The United Nations Food and Agriculture Organization describes land reclamation as "an irreversible form of environmental degradation."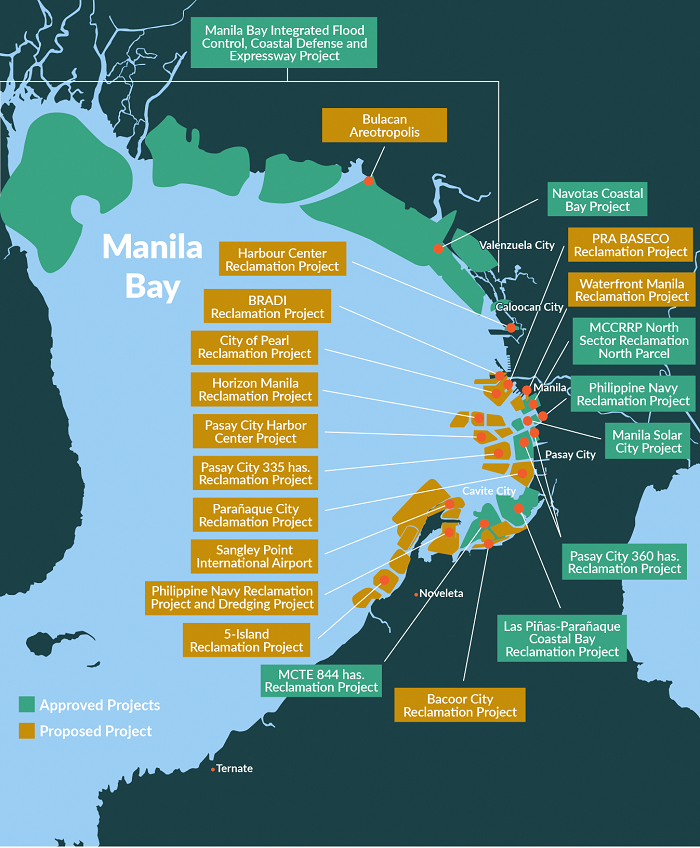 Manila Bay is Alive!
Contrary to claims that Manila Bay is dead, its waters remain the habitat for fishes, mangroves, and birds. Commonly caught fishes include sardines, mackerel, mullet, threadfin bream, squid, blue crab, roundscad, and caesio. 67% of Manila Bay's total value is accounted for by the fisheries industry alone.
According to the National Fisheries Research and Development Institute, two species of sardines, Sardinella gibbosa and Sardinella fimbriata, have spawning grounds in Manila Bay. These two also attained the highest relative abundance species of fish respectively in Manila Bay from 2012-2015.
Manila Bay is the spawning ground of Sardinella pacifica, a new species of sardines with its characteristics found only in the Philippines, particularly in Manila Bay, Sorsogon, Samar, and Quezon.
Dump-and-fill projects will destroy the fisheries resources in Manila Bay because of destruction of spawning grounds and the habitat of fish eggs and larvae.
Manila Bay's mangrove forest areas protect the coast from waves, tidal currents, and typhoons and provide habitats, shelter, breeding sites, and food sources to coastal wildlife. From 54,000 hectares of mangrove forests at the turn of the century (1890), only 680 hectares remain in 2016 – a figure that indicates nearly 99% decimation of mangrove forests in Manila Bay.
According to the Wild Bird Club of the Philippines, an estimated 50 million birds use the East Asian-Australasian Flyway. The Philippines is in the middle of this flyway and is a stopover for at least 13.5 million migratory birds that come from the northern hemisphere.
Studies have shown that dump-and-fill activities, if allowed to continue, would exacerbate Manila Bay's vulnerability to environmental hazards and extreme weather events, such as flooding, storm surges, land subsidence, and liquefaction. Thus, these projects would endanger the lives of millions of residents along Manila Bay coastal areas, rather than help them survive the impact of these geohazards and climate crisis.
United Call to Stop the Dumping and Filling of Manila Bay
Oceana works with multi-sectoral stakeholders in supporting the Manila Bay rehabilitation and clean-up as opposed to reclamation projects. Oceana and our strong allies from both the executive and legislative branches of the government and the private and civil society sectors are collaborating in various activities to heighten awareness and build constituencies opposing these projects.
Oceana is a member of the People's Network for the Integrity of Coastal Habitats and Ecosystems (NICHE) – an alliance of civil society and fisherfolk groups from Luzon, Visayas, Mindanao. NICHE calls for the restoration of the coastal waters of Manila Bay and other areas targeted for reclamation.
Together with all these organizations, Oceana is fervent in its call to stop the illegal dumping and filling of Manila Bay that destroys critical life support systems, violates our environmental rights, and deprive our artisanal fisherfolk of their livelihood and food security.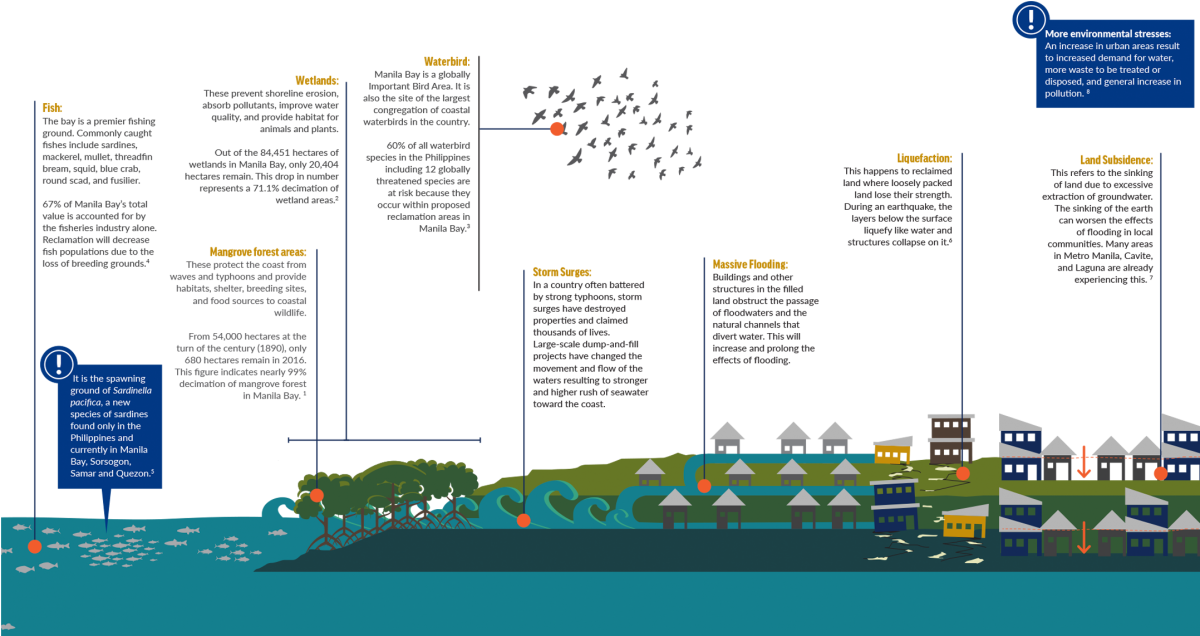 Learn more, download the brochure here
Click here to sign the Petition
Resources
Why Should We Oppose Land Reclamation?
One in Saving Manila Bay
STOP Illegal Reclamation Activities in Manila Bay